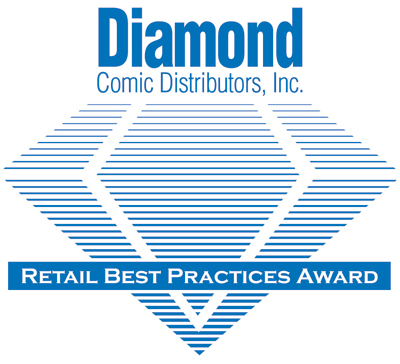 Each year, the Diamond Retailer Best Practices Awards seek to showcase comic book specialty retailers that demonstrate "best practices" in their stores, thereby offering their customers and community a consistently appealing shopping experience.

All comic book and specialty hobby store retailers serviced by Diamond were invited to nominate their store for Diamond BPA consideration. The 2012 Awards spanned 15 categories: Best Back Issue Section, Best Counter Display, Best Customer Loyalty Program, Best Graphic Novel Section, Best Kids Section, Best Movie or Themed Boutique, Best New Comics Section, Best Out of Box Game Display, Best PREVIEWS Display, Best Store Logo Usage, Best Toys Section, Best T-Shirt Display, Best Website, Best Window Display, and Most Improved Retail Display. Fellow retailer voted for their peers, with the first 10 winners announced at the Diamond Retailer Summit at C2E2, and the final five at Diamond's NYCC Retailer Appreciation Breakfast.

Below are the 15 winners of the 2012 Retailer Best Practices Awards.
"We commend the winners for providing excellent service to their patrons and community," said Diamond's VP-Sales & Marketing, Roger Fletcher.