Diamond Announces 2014 Gem Award Winners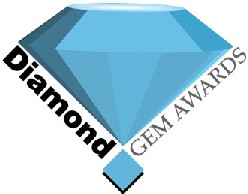 Diamond Comic Distributors proudly announces the winners of the 2014 Diamond Gem Awards, selected by comic book specialty retailers and recognized within the comic book industry as the pinnacle of sales achievement for comic book artists, writers, publishers, and industry executives who work in one of America's most unique art forms.
Image Comics was voted by retailers as Comic Book Publisher of the Year (Over 4% Market Share) in 2014. Image also took home the Gem Award for Best New Comic Book Series for Outcast by Kirkman and Azaceta.
DC Entertainment took home the most Gem Awards—seven—including Backlist Publisher of the Year and Best Original Graphic Novel of the Year for Batman: Earth One, among others. Marvel Comics earned five Gem Awards including Top Dollar Comic (Amazing Spider-Man #1) and Comic Book of the Year (Under $3.00) (Ms. Marvel #1), among others. Dark Horse was recognized with three Gems including 2014's Licensed Comic of the Year Serenity: Leaves on the Wind and Best Anthology, Dark Horse Presents. IDW Publishing took top honors for Best All Ages Series for My Little Pony: Friendship is Magic.
Gem Awards were also presented to BOOM! Studios (Comic Book Publisher of the Year, Under 4% Market Share); :01 First Second Books for Andre the Giant: Life & Legend GN (Best Indie Graphic Novel of the Year); VIZ Media for Manga Publisher of the Year, and many others.
"We established the Gem Awards to give retailers an opportunity to recognize the suppliers, titles, and products that have been instrumental in helping their businesses grow over the past year," said Diamond President & CEO Steve Geppi. "Our suppliers work diligently to support retailers and the entire industry with top-quality titles and products, and we thank all of the retailers who took time from their busy schedules to vote and acknowledge those efforts."
Nominees for the Diamond Gem Awards were chosen by a panel of Diamond product specialists based on their overall impact on the industry, while comics and related merchandise were chosen on the merits of their sales performance and quality from 2014. Winners were then selected by members of the most critical segment that serves the comic book-buying public — comic book specialty retailers across the United States and worldwide.
And the Winners are...
2014 Diamond Gem Award Suppliers of the Year



2014 Comic Book Publisher of the Year
Over 4%
Image Comics

2014 Comic Book Publisher of the Year
Under 4%
BOOM! Studios

2014 Backlist Publisher of the Year
DC Entertainment


2014 Top Dollar Comic Book Publisher
of the Year
Marvel Comics




2014 Manga Publisher
of the Year
Viz Media

2014 Game Manufacturer
of the Year
Wizards of the Coast


2014 Toy Manufacturer
of the Year
Funko
2014 Diamond Gem Award Products of the Year
2014 Comic Book of the Year
Under $3.00

Ms. Marvel #1
DEC130623
Marvel Comics

2014 Comic Book of the Year
Over $3.00

Thor #1
AUG140777
Marvel Comics

2014 Top Dollar Comic of the Year

Amazing Spider-Man #1
FEB140664
Marvel Comics

2014 Licensed Comic Book of the Year

Serenity: Leaves on the Wind #1
NOV130031
Dark Horse Comics

2014 Licensed TP/HC of the Year

Avatar: The Last Airbender -
The Search Library Ed. HC
OCT130056
Dark Horse Comics

2014 Original GN of the Year

Batman: Earth One TP
MAY140376
DC Comics from
DC Entertainment

2014 Reprint TP/HC of the Year

Batman: Death of the Family
Book & Joker Mask Set
MAY140361
DC Comics from
DC Entertainment

2014 Manga TP of the Year

Attack on Titan: Before the Fall GN Vol. 01
JAN141232
Kodansha Comics

2014 Best Free Comic
Book Day Book

FCBD 2014 Guardians of the Galaxy
JAN140009
Marvel Comics

2014 Best New
Comic Book Series

Outcast by Kirkman and Azaceta
Image Comics

2014 Best All-Ages Comics

My Little Pony: Friendship is Magic
IDW Publishing

2014 Magazine of the Year

MAD Magazine from
DC Entertainment

2014 Indie GN of the Year

Andre the Giant: Life & Legend GN
MAR141195
:01 First Second Books


2014 Anthology of the Year

Dark Horse Presents 2014 #1
JUN140010
Dark Horse Comics


2014 Trade Book of the Year

The Overstreet Comic Book Price
Guide Vol. 44
APR141239
Gemstone Publishing

2014 Game Product of the Year

Marvel Dice Masters: Uncanny X-Men
Starter Set
JUN142655
WizKids/NECA

2014 Toy Product of the Year

DC Comics Super Villains Harley Quinn AF
SEP130327
DC Collectibles from
DC Entertainment

2014 Toy Line of the Year

Batman Animated
DC Collectibles from
DC Entertainment

2014 Collectable
Statue of the Year

Batman Black & White: Harley
Quinn 2nd Ed. Statue
MAR140302
DC Collectibles from
DC Entertainment