One of next year's biggest comic events – Free Comic Book Day (FCBD) 2013 – is coming on Saturday, May 4, and you can get the party started now by ordering a variety of FCBD 2013 Promotional Materials, from the December PREVIEWS Retailer Order Form!
It's never too early to plan ahead for FCBD, and you'll want to capture the attention of potential customers in your community by making your store the destination for FCBD 2013.
Participating retailers can order free quantities of the 22" x 28" FCBD 2013 Promo Poster (DEC120001J; limit 1), 8" x 10" Window Cling (DEC120003J; limit 1), and Shelf Talker (DEC120005J; limit 2). Extra quantities of each may be ordered at low net costs.


Other FCBD 2013 promotional items offered in December include a host of favorites that eager consumers look forward to receiving in advance of the big day, including: Mini-Posters (Bundle of 50: DEC120008J, $6); Bookmarks (Bundle of 50: DEC120009J, $4.50); Postcards (Bundle of 50: DEC120010J, $4.50); Lollipops (Pack of 20: DEC120011J, $2.49), Circle Button (Bundle of 50: DEC120012J, $15), Lanyards (DEC120013J, $1.99), Balloons (Pack of 20: DEC120014J, $2.99); Temporary Tattoos (Bag of 50: DEC120014J, $6); FCBD: I Got a Free Comic Stickers (Roll of 100: DEC120016J, $3).

The Order Increase Cut-off Date for these FCBD 2013 items is January 31. (And don't forget: the FCBD 2013 Commemorative Artist T-Shirt has yet to be revealed! Plan now to order in anticipation of high demand for this powerhouse promotional tool!)

Additionally, the December PREVIEWS Retailer Order Form offers participating retailers another opportunity to stock up on generic FCBD items that bear the generic event logo, but not the date, making them effective year-round promotional tools. These include the FCBD Eco Shopping Bag (Polypropylene: DEC120017J, $1.59; Canvas: DEC120018J, $2.80), FCBD Black Adjustable Generic Logo Hat (DEC120019J, $7.75) and Black Generic Logo T-Shirt (SM: DEC120020J, MED: DEC120021J, LG: DEC120022J, XL: DEC120023J; $4 ea.; XXL: DEC120024J, XXXL: DEC120025J; $5 ea.).

Two bestselling FCBD Commemorative Artist T-Shirts are also offered again:


| | |
| --- | --- |
| | |

The 2012 edition by Jim Lee is offered in Black (SM/XL: DEC120031U / DEC120032U, $14.99 ea.; XXL: DEC120033U, $17.99), White (SM/XL: DEC120034U / DEC120035U, $14.99 ea.; XXL: DEC120036U, $17.99), and Light Blue (SM/LG/XL: DEC120037U / DEC120038U / DEC120039U, $14.99 ea.).

The 2011 edition by Darwyn Cooke is offered in Black (LG: DEC120026U, $14.99; XXL: DEC120027U, $17.99), Orange (XL: DEC120028U, $14.99; XXL: DEC120029U, $17.99) and Blue (LG: DEC120030U, $14.99).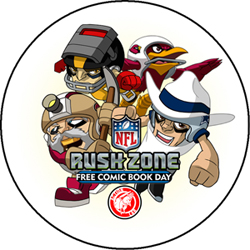 This year's FCBD button (DEC120012J, $15 for a bundle of 50) will once again feature kid-friendly art, with graphics from Action Lab's new NFL Rush Zone series, which also will be available as a Free Comic Book Day book.
On Free Comic Book Day, comic book retailers worldwide will join with publishers to promote the comic medium and their stores. Overwhelmingly positive consumer response, the popularity of comics characters in film & television and extensive media coverage of the event have helped FCBD evolve into a major sales event for retailers. Nearly 2,000 participating retailers have distributed over 2 million free comics per year, attracting many new customers in the process.
Since 2002, FCBD has celebrated the truly American art form of comics and the literacy that comics encourage. The event salutes the medium's energy and boundless creativity, and drives new readers into their local comic shops.

To learn more about the coming event, look for details in upcoming editions of Diamond Daily and online at FreeComicBookDay.com.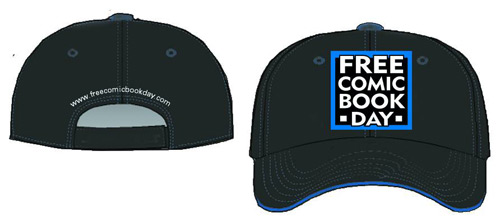 SHIPPING MID-LATE MARCH 2013

Item Code

Description

Price

Est.
Ship Date

OIC
Date

FCBD 2013 PROMO POSTER (LIMIT 1) (Net)

$0.00

03/13/13

01/31/13

(NOTE: Retailers who intend to participate in FCBD 2013 may order one FREE promotional poster.)

FCBD 2013 PROMO POSTER EXTRAS (Net)

$1.50

03/13/13

01/31/13

(NOTE: You may order additional quantities of the FCBD 2013 promotional poster here.)

FCBD 2013 WINDOW CLING (LIMIT 1) (Net)

$0.00

03/13/13

01/31/13

(NOTE: Retailers who intend to participate in FCBD 2013 may order one FREE window cling.)

FCBD 2013 WINDOW CLING EXTRAS (Net)

$1.00

03/13/13

01/31/13

(NOTE: You may order additional quantities of the FCBD 2013 window cling here.)

FCBD 2013 FREE SHELF TALKER (LIMIT 2) (Net)

$0.00

03/13/13

01/31/13

FCBD 2013 SHELF TALKER EXTRAS (Net)

$0.50

03/13/13

01/31/13

FCBD STORE BAGS STANDARD BOX OF 500 (Net) (O/A) (C: 1-1-2)

$37.50

03/13/13

01/31/13

FCBD 2013 MINI-POSTER (BUNDLE OF 50) (Net)

$6.00

03/13/13

01/31/13

FCBD 2013 BOOKMARK (BUNDLE OF 50) (Net)

$4.50

03/13/13

01/31/13

FCBD 2013 POSTCARDS (BUNDLE OF 50) (Net)

$4.50

03/13/13

01/31/13

FCBD 2013 LOLLIPOPS (PACK OF 20) (Net)

$2.49

03/13/13

01/31/13

FCBD 2013 CIRCLE BUTTON (BUNDLE OF 50) (Net)

$15.00

03/13/13

01/31/13

FCBD 2013 LANYARDS (Net)

$1.99

03/13/13

01/31/13

FCBD 2013 BALLOONS (PACK OF 20) (Net)

$2.99

03/13/13

01/31/13

FCBD 2013 TEMPORARY TATTOOS (BAG OF 50) (Net)

$6.00

03/13/13

01/31/13

FCBD I GOT A FREE COMIC STICKERS (ROLL OF 100) (Net) (O/A)

$3.00

03/13/13

01/31/13