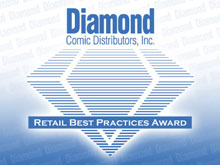 The next round of the BPAs - and the second for 2017 - are upon us! Winners of the Summer BPAs will voted on online prior to the SDCC Retailer Appreciation lunch on July 21. Do you think your store is a winner? Nominate yourself! Know of a store that does one of the below awesomely well? Nominate them! We want stores to receive the appreciation they deserve. Sometimes that means talking about your own store like it's the bee's knees. And that's okay.
ENTER THE 2017 SUMMER RETAILER BEST PRACTICES AWARDS
SUMMER 2017

CATEGORIES
- Best Store Sign
- Most Creative Store Sale
- Best Staff Morale Booster
- Best T-Shirt Display
Why Enter?
The Diamond BPAs strive to seek out and honor comic book specialty retailers that demonstrate "best practices" in their stores. If you win, you get an awesome, customized award for your store and a $200 backlist credit (retail)!

Who Can Enter?
All comic book and specialty hobby store retailers serviced by Diamond are invited to nominate their store for consideration.

How do I enter?
Send your submissions in the above categories to Retailer Marketing Manager, Emily Reely, at remily@diamondcomics.com by June 30 in order to be nominated! Submissions should contain at least one photo or image and a description (400 words or less) explaining why your store should win the BPA for said category.

Who Votes?
Voting is done online by retailers and winners will be announced at the Retailer Appreciation Lunch on Friday, July 21 and in Diamond Daily that day.