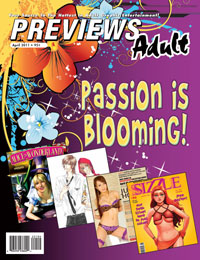 The April 2011 issue of PREVIEWS Adult is now available online exclusively in PDF format. Retailers are encouraged to download the catalog, and review the items before placing their orders. Additionally, retailers can forward the publication to their Adult customers, or print out a version to place in their subscription boxes.
We've also incorporated a convenient Consumer Order Form to hand out to your customers, and an accessible backlist chock-full of in-stock product geared specifically for mature clientele and guaranteed to tantalize interest and sales.
Comics aren't just for kids! Each month, PREVIEWS Adult showcases the premier purveyors of the steamiest and hotly demanded offerings in erotic literature and graphic entertainment, including Eros Comix, NBM, and Adult Source Media. Jam-packed with eye-catching imagery and tantalizing details, PREVIEWS Adult provides the product information retailers need to make more informed buying decisions. Strictly for "Adults Only," all product featured is scheduled to ship in June 2011 and beyond.
Click Here for a downloadable PDF to print out for in-store use, and/or send online directly to your customers. Retailers can also find this file on the Retailer Services site's Data Files page under the "PREVIEWS Files" section. To access the file, simply scroll down the page to PREVIEWS Adult Catalog PDF.
Retailers should contact Diamond Technical Support if they experience any issues accessing the PDF.