Writer Jeff Jensen Talks Dark Horse's Green River Killer: A True Detective Story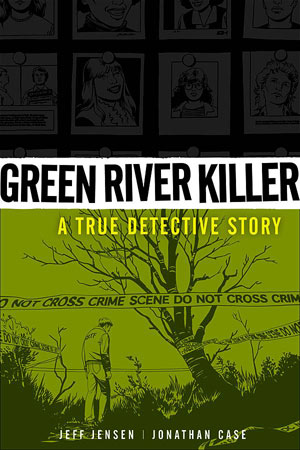 Throughout the 1980s, the highest priority of Seattle-area police was the apprehension of the Green River Killer, the man responsible for the murders of dozens of women. In 1990, with the body count numbering at least 48, the case was put in the hands of a single detective, Tom Jensen.  
After 20 years, when the killer was finally captured with the help of DNA technology, Jensen spent 180 days interviewing Gary Leon Ridgway in an effort to learn his most closely held secrets – an epic confrontation with evil that proved as disturbing and surreal as can be imagined. 
Written by Jensen's own son, acclaimed entertainment writer Jeff Jensen, Dark Horse's Green River Killer: A True Detective Story HC (MAY110043V, $24.99), on sale on September 28, presents the ultimate insider's account of America's most prolific serial killer. Jeff Jenson recently took the time to answer questions about his work to bring this insightful and personal story to readers.   
---
What do you remember about your personal experiences when your father was put in charge of the Green River Killer case?  
Well, let's take a step back. My father (Tom Jensen) was recruited to the Green River Task Force in January of 1984. This was about sixteen months after the first victims had been found in and along the Green River south of Seattle. By early 1984, about eleven bodies—all women, all strangled, all prostitutes—had been discovered in the greater Seattle area. In late 1983, the KingCounty sheriff's department was authorized to assemble a large team of detectives and other police officers to investigate these murders and hunt the killer. Over the next six years, the task force continued to discover more and more victims in wooded areas in KingCounty. By the end of the task-force era, the death toll reached forty-eight victims. Most of them had been murdered between 1982 and 1984—which meant the Green River Killer had committed most of his murders before authorities devoted serious resources toward catching him. The task force were always playing catch-up to a case that kept getting bigger and bigger. They investigated many suspects, but never made an arrest.  
In 1990, with public interest and support waning for what was perceived as fruitless and futile work, and after years of budget and staffing cuts, the sheriff's department disbanded the task force. One detective was to continue working Green River full time. My father volunteered for the job. By 1990, he had developed a deep and broad understanding of the case, due to his extensive work with a database that was built to hold and organize every detail of this massive investigation. He didn't want to quit. He felt—worried—that if he didn't continue searching for the Green River Killer, the case would become neglected, abandoned, forgotten. This was how my father became the lead detective on Green River during the decade leading up to the arrest of Gary Leon Ridgway in 2001. (Detective Jim Doyon, a member of the task force, was also asked to help work the case as time permitted. Jim—now deceased—and my father were close, and their friendship/partnership is depicted in the book.)  
I was thirteen when my father was recruited to the task force in 1984. I was keenly aware that he was involved in an important piece of police work. However, my father rarely talked about it—he didn't like to—and I was wary to ask him about it. It felt unseemly to want to know, and I was sensitive to the likelihood that it was too sensitive a topic to broach with him. I moved to New York City for college in 1988 and don't have any memories of my father becoming the lone detective cop on the Green River Killer case. When I visited or talked to him on the phone, he continued to remain mum about his work. I don't want to paint my father as some stereotypical brooding, obsessed serial-killer hunter. On the contrary: By and large, he did a pretty good job of convincing all of us in the family that his work was just that—"work." A job. Impersonal and unremarkable. But it wasn't until later, after Gary Leon Ridgway was caught and my father finally opened up to me about his experience, that we realized how personal and significant this case was to him.
There are a lot of different accounts of and allusions to the Green River Killer in multiple types of media, from books to movies to songs. How is Green River Killer: A True Detective Story unique?  
There are many reasons (including the fact that it's a graphic novel), but more than anything, Green River Killer: A True Detective Story is unique because it's about my father. Dad has given many interviews about the case but has never shared the story of his journey through the case, from his recruitment to bringing the investigation to closure. But the graphic novel—informed by extensive interviews with my father and pursued with his permission—is not memoir or traditional nonfiction. It is a dramatic presentation of real-life events. I think readers will find him to be a really compelling character and will be deeply moved by his story. Then again, I am rather biased. I think readers will find his journey interesting and compelling because of what drove him all his years searching for the Green River Killer. He called it "the quest." And it wasn't so much a quest for justice as a yearning to sit down across from the Green River Killer and get answers to all the questions—trivial and profound—that had been generated by his actions, none more so than this: Why? Given the times we live in, colored by unresolved tragedy and inexplicable catastrophe, I think all kinds of readers—whether or not they're fans of the true crime/mystery genre—can relate to my father and the themes he represents. 
The graphic novel is also unique because it takes readers inside the most extraordinary part of the investigation. In the spring of 2003, Gary Ridgway's lawyers quietly approached prosecutors with an offer: Ridgway would plead guilty to all forty-eight murders, plus provide the locations of more victims than had ever been found; in exchange, Ridgway wanted a life sentence instead of the death penalty. (Ridgway had only been charged with eight of the forty-eight murders following his arrest in 2001.) The prosecutors agreed to take the deal—as long as he could prove his claims to detectives. The corroboration process would have to be conducted in secret, to protect the integrity of the trial that would have to happen if Ridgway couldn't provide sufficient testimony and evidence to back up his confessions. It was determined that the interviews should be done outside of the jail, because too many people would notice and gossip. And so, on June 13, 2003, Ridgway was secretly removed from jail and relocated to an office building that housed my father and his colleagues. Ridgway lived in a small office that had been converted into a makeshift cell, just a few yards away from my father's cubicle. The corroboration process was supposed to take only a month. Instead, it took 188 days.  
The graphic novel uses the first five days of the Ridgway interviews as a microcosm for the whole ordeal. We use flashbacks to round out the story of the investigation and my father's life—how he became a detective, why that was important to him, what brought him to the Green River case, what kept him there. The book brings to life the surreal experience of living and working with the Green River Killer and the detectives' intensifying frustration with Ridgway, who struggled to recall crimes committed twenty years earlier, and who clearly wasn't ready to cough up all his secrets. The story culminates with a breakthrough moment on the fifth day of interviews, when my father coaxed Ridgway into divulging perhaps his most shameful secret, and more, when my father finally got to ask that big question: Why?  
How does one go from writing pop-culture articles to scripting a true-crime story about the capture of a serial killer who is presumed to have over ninety deaths on his hands? What was the most difficult aspect of writing such a genre and such a story?  
It wasn't as tricky as you might think, as I've written comic books in the past. The most difficult aspect of writing the book was figuring out what to leave out. My instinct is to overstuff a story with details and anecdotes. It was a challenge to find the right mix of richness and economy. Fortunately, I was blessed with an amazing editor in Sierra Hahn, who had a great instinct for what was needed and what wasn't.
This is a very personal story for you; your father was the detective who caught and interviewed Gary Leon Ridgway, and you were there when he came home at the end of a grueling day. How has it been to work with Jonathan Case on such a story? Is it difficult to have someone from the outside work on something so personal or was it helpful to have a fresh set of eyes?   
I really wanted the graphic novel to work and rock as an engaging piece of comic-book storytelling, so I really believed that goal could be best achieved by having a talented artist who was focused on that ambition and even lived and worked at some personal remove from my father. Jonathan couldn't have been a better collaborator. His storytelling is clean, stylish, and confident. He's amazing at capturing the emotional lives of our characters while retaining a naturalistic style. Jonathan also possesses a maturity and sensitivity that served this book well. He shared my belief that this book shouldn't dote on the sensational aspects; i.e., the sex and violence and suffering of the victims. In fact, when he agreed to do this project, he expressed a lot of concern about that aspect of the story. I knew that tension in his heart and imagination would achieve the right choices for the graphic novel. Jonathan has become quite galvanized by issues like human trafficking and the sex trade as a result of working on the book. I couldn't be more impressed with Jonathan as an artist and as a person. Jonathan has written and drawn another book coming out this fall—a graphic novel called Dear Creature. Very different, yet very cool. I wish all good things for Jonathan.
The Green River Killer was, and still is, infamous for his criminal exploits. Did you already know much of the information that you incorporated into your graphic novel, or did such an endeavor require a lot of research? What did you use to get the facts for the graphic novel? Was it difficult at any point in time to gain research material, such as case evidence?  
Because my father didn't talk much about the case, I had to do quite a bit of research to write the graphic novel. I interviewed my father repeatedly and extensively. I had transcripts of all the interviews that detectives did with Ridgway. I visited crime scenes and my father's office, where Ridgway was held and interviewed. I consulted books that had been written about the case. In the fall of 2003 and early 2004, I interviewed several of my father's colleagues, as well as one of Ridgway's lawyers, for the purpose of writing a magazine article about my father. The article didn't come to pass, but the interviews served me well in writing the graphic novel.
There are a lot of different directions Green River Killer: A True Detective Story takes, such as exploring what makes Gary Ridgway tick and what a twenty-year search meant to you and your family. What made you decide to start such a project? 
My motivation: To understand my father better and share his story with the world—a story that I believed people would find meaningful. The book is about my father's encounter with—and a response to—extreme human horror. I am inspired and moved by his story, and I think others will be, too. I am also a proud son who wanted to brag a little about his dad—though at the same time, the book is honest about my father's struggles and limitations in regard to the case.
You describe your father's experience working on the Green River Killer case as one that weighs heavily on the mind and spirit, and rightfully so. How does he feel about you writing this account of his story?  
For years prior to working on this graphic novel, my father would say things to me that would begin something like this: "One day, when you write the book about me…" He was half-serious, half-kidding, when he made those comments. But I think we both knew over the years that me writing a book about him was inevitable. I am a writer who likes to tell stories; he had a story that he needed to tell, even though it would be very hard, very painful for him to tell it. (Getting the details I needed from him proved to be very difficult.) Like I said before, my father didn't like talking about his work with the family. But I think he wanted to. Like all of us, he wants to be known by the people he loves and who love him. And I think he believes his family deserves to know his story, as we were affected by it, through him, in our own way. So I think he—and we—saw this book as a way for him to open up and reveal himself to us. 
And so my father gave his blessing to the project and supported me every step of the way. But he's a very humble guy; his main concern throughout the project was that I didn't give him any more credit than he deserved, and that the dramatization of real-life events feel honest and accurate. My father used to joke—long before I approached him with the idea of doing a graphic novel—that if anyone wrote a book about his life and work, it would probably be a comic book. Well, he was right.
Green River Killer: A True Detective Story is an ultimate insider's account that chronicles the reign of the Green River Killer over Washington's inhabitants. Was exposing such a personal story about your family difficult? Were there any apprehensions you had going in to such a project?  
From the get-go, I believed strongly in the book. But hell yes, I was nervous! Ultimately, my feeling was this: if my dad and mom feel good about the finished book, then I'll feel good about it. I had a great deal of anxiety about my father's reaction to the book as I worked on it, and that angst only intensified the closer and closer we got to completion. On the day I put a galley in his hand and asked him to read it, I had an overwhelming urge to run away to the nearest bar and start drinking. But my father had a very positive reaction to the book—even though it was often very difficult for him to read—and I feel pretty relieved.
Comic books have been an important part of your family's culture. You were taught to read from them, and your father even said that should a story be published of his experiences, it should be done in comic form. What comics and comic authors influenced Green River Killer: A True Detective Story the most? 
I don't know if I would have ever thought of telling this story in graphic-novel form without the precedents of From Hell by Alan Moore and Eddie Campbell and Torso by Brian Michael Bendis and Marc Andreyko. That said, when I was writing the book, I had Brian K. Vaughan and Ed Brubaker on the brain, because I admire their storytelling so much. In terms of noncomics inspiration: Stephen King, for his balance of horror, humanity, and humor; and David Fincher's Zodiac and The Social Network (because of the flashback storytelling structure). And Lost, of course.
If you could give your readers one piece of advice about writing or just life in general, what would it be?  
When I was ten years old, I wrote to Marvel Comics, asking them what I needed to do to become a comic-book writer. I got a letter back giving me these two pieces of advice: Read a lot of books and write what's meaningful to you. To be honest, I kinda felt the advice was rather trite back then…but thirty years later, I've grown into that wisdom.
If you could say one thing to the Green River Killer, what would it be?  
I have nothing to say to the Green River Killer. I don't even know if I have the balls to look that monster in the eye. Anything I could say—or would want to ask—was said and asked by my father and his colleagues, who had the courage and discipline to do so. I'm grateful for that.


---
For customers that are fans of detective stories, both true and fictional, make sure you point them in the direction of Green River Killer: A True Detective Story HC (MAY110043V, $24.99) when it hits stores on September 28.