Diamond Announces Top-Selling Comic Books and Graphic Novels For Year 2011
(BALTIMORE, MD) — (January 10, 2012) — DC Comics' Justice League #1 was the bestselling comic book published in 2011 based on total unit sales to comic book specialty shops, according to Diamond Comic Distributors, the world's largest distributor of comics, graphic novels, and pop-culture merchandise.
Released in September, Justice League #1 saw two of DC's top creators, Geoff Johns and Jim Lee, team up to re-launch a new Justice League team in concert with DC's "New 52" line of comic books. Issues #2-4 of the series also topped the comics charts in October through December, respectively.
Marvel Comics finished the year as the comic book industry's top publisher, leading both Dollar and Unit Market Shares, with a 37% Dollar Market Share and a 41% Unit Market Share. DC Comics was the industry's number two publisher in 2011 with a 31% Dollar Market Share and a 37% Unit Market Share.
Marvel Comics' top titles for 2011 were June's Ultimate Comics Spider-Man #160, the conclusion to "The Death of Spider-Man" storyline, charting as the number five bestselling comic book of 2011, and January's Fantastic Four #587, which saw the death of longtime team member, Johnny Storm.
2011's top-selling graphic novel to comic book specialty shops was The Walking Dead Volume 1 trade paperback, which continued its strong sales performance as the perfect complement to the hit TV show on AMC. Overall, Image Comics' Walking Dead titles took six of the top ten spots, with Top Shelf Productions' critically acclaimed League of Extraordinary Gentlemen: Century: 1969 charting as the third bestselling graphic novel of 2011.
Annual sales of comic books to the comic book specialty market increased in 2011, up 1.2% for the year, while graphic novel sales dipped 5% from 2010. "Sales of comic books were quite strong in the second half of the year, led by the September launch of DC's New 52 comic books and that positive trend has continued in the months since," remarked Diamond President & CEO Steve Geppi. "With a full slate of high profile new projects scheduled for next year, we are optimistic that comic book sales will increase again in 2012."
TOP COMIC BOOK PUBLISHERS
PUBLISHER
RETAIL
MARKET
SHARE
UNIT
MARKET
SHARE
MARVEL COMICS
37.29%
40.93%
DC COMICS
31.41%
36.77%
IMAGE COMICS
5.27%
4.71%
IDW PUBLISHING
4.73%
3.78%
DARK HORSE COMICS
4.71%
3.35%
DYNAMITE ENTERTAINMENT
3.06%
2.85%
BOOM! STUDIOS
1.73%
1.43%
VIZ MEDIA
1.09%
0.47%
EAGLEMOSS PUBLICATIONS LTD
0.96%
0.23%
AVATAR PRESS INC
0.79%
0.54%
OTHER NON-TOP 10
8.95%
4.93%
TOP 10 COMIC BOOKS
TOP 10 GRAPHIC NOVELS & TRADE PAPERBACKS
RANK
DESCRIPTION
PRICE
ITEM
CODE
VENDOR
1
THE WALKING DEAD VOLUME 1: DAYS GONE BYE TP (MR)
$9.99
JUL068351
IMA
2
THE WALKING DEAD VOLUME 14: NO WAY OUT TP (MR)
$14.99
APR110444
IMA
3
LEAGUE OF EXTRAORDINARY GENTLEMEN III: CENTURY #2: 1969 (MR)
$9.95
MAY111195
TOP
4
THE WALKING DEAD VOLUME 15 TP (MR)
$14.99
OCT110502
IMA
5
THE WALKING DEAD VOLUME 2: MILES BEHIND US TP (MR)
$14.99
SEP088204-M
IMA
6
FABLES VOLUME 15: ROSE RED TP (MR)
$17.99
JAN110422
DC
7
BATMAN: NOEL DELUXE EDITION HC
$22.99
JUL110245
DC
8
THE WALKING DEAD VOLUME 3: SAFETY BEHIND BARS TP (MR)
$14.99
NOV082245-M
IMA
9
THE WALKING DEAD VOLUME 13: TOO FAR GONE TP (MR)
$14.99
SEP100413
IMA
10
MORNING GLORIES VOLUME 1: FOR A BETTER FUTURE TP
$9.99
DEC100470
IMA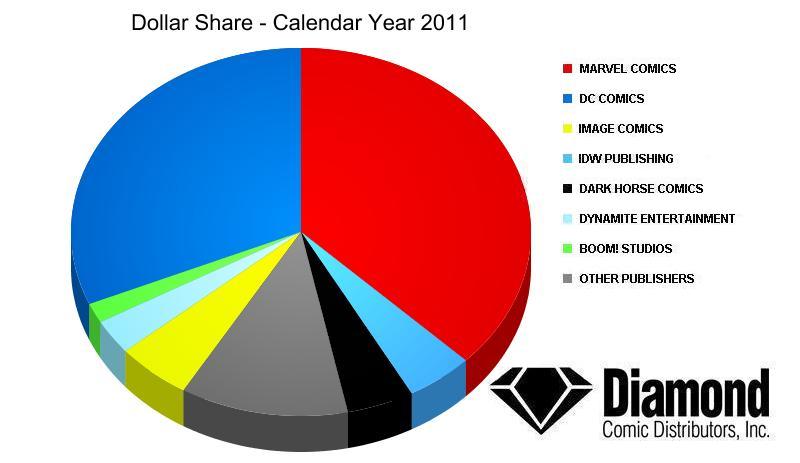 Dollar Market Share – 2011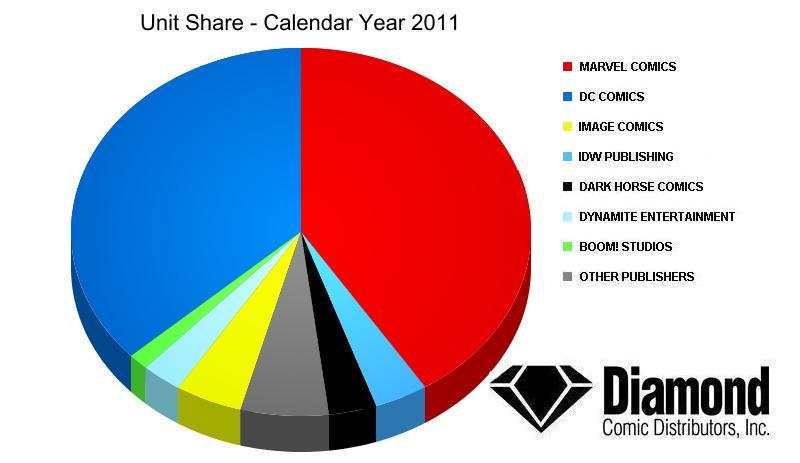 Unit Market Share– 2011
How does Diamond calculate the charts? It all starts at the comic book shop.
Data for Diamond's sales charts — which include the monthly market shares and all top product charts — are compiled by Diamond Comic Distributors from a universe of over 3,500 comic book specialty shops located in North America and around the world. The account base includes brick-and-mortar comic book specialty shops, Internet merchants, and other specialty stores.
Unit and dollars sales are calculated based upon orders invoiced and shipped to Diamond accounts during any given month, which comprises initial pre-orders, advance reorders, and reorders, minus any copies that are received back from a title marked as returnable.
Please note that comics marked with an asterisk have had their reported quantities reduced due to retailer returnability, and thus may rank lower on the charts than their actual sales would reflect.
***
ABOUT DIAMOND COMIC DISTRIBUTORS (DCD)—Diamond is at the nexus of comics and pop culture merchandise. Based in Baltimore, MD, DCD is the world's largest distributor of English-language comic books and pop-culture related merchandise, servicing more than 4,000 specialty retailers worldwide. For more information, visit Diamond on the web at www.diamondcomics.com.
© 2012 Diamond Comic Distributors, Inc. All rights reserved. Diamond, the Diamond logo, Diamond Books logo, and PREVIEWS are either registered trademarks or trademarks of Diamond Comic Distributors in the United States and/or other countries. All other trademarks are the property of their respective copyright owners.