Summer Best Practices Award Winners Announced at SDCC Retailer Lunch!
August 19, 2014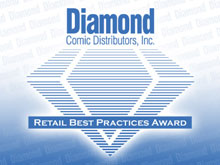 The winners of the Summer 2014 Diamond Retail Best Practices Awards (BPAs) were announced at Diamond's Retailer Lunch during San Diego Comic Con on July 25 via video.
The Diamond BPAs were established to identify and honor comic book specialty retailers that demonstrate "best practices" in their stores, thereby offering their patrons and community a consistently appealing shopping experience. All comic book and specialty hobby store retailers serviced by Diamond were invited to nominate their store for Diamond BPA consideration by submitting photos of the area(s) of their shop they wish to nominate and a written statement (of no more than 500 words) explaining why they believe their store is deserving of the award. Fellow retailers than voted for their top picks via the Retailer Services website.
The winner of each award is bolded below.

POP Store - Torino, Italy
Arcadian Comics - Newport, KY
Farpoint Toys/Level Up Entertainment - Mays Landing, NJ
I.E. Comics - Hemet, CA
eXpert Comics - Montreal and Ville LaSalle, Quebec in Canada
Asylum Comics - El Paso, TX
G&B Comics - Singapore
Space Cadets Collection Collection
Dragon's Lair Comics and Fantasy - San Antonio and Austin, TX
Mayhem Comics - Ames, IA
Escape Pod Comics - Huntington Village, NY
Jesse James Comics - Glendale, AZ
Powers Comics - Green Bay, WI
Space Cadets Collection Collection - Oak Ridge North, TX
Jesse James Comics - Glendale, AZ
Stadium Comics - Brampton, Ontario
I.E. Comics - Hemet, CA
eXpert Comics - Montreal and Ville LaSalle, Quebec in Canada
Asylum Comics - El Paso, TX
Dragon's Lair Comics and Fantasy - Austin and San Antonio, TX
Comic Book Hideout - Fullerton, CA
HOT Comics - New Hope and Richfield, MN
POPstore - Bologna, Parma, and Torino, Italy
Dragon's Lair Comics and Fantasy - Austin and San Antonio, Texas
Heroes Realm - Ventura, CA
All Things Fun! - West Berlin and McGuire AFB, New Jersey
Android's Amazing Comics - Sayville, NY
G&B Comics - Singapore
Hypno-Tronic Comics - Staten Island, NY
Space Cadets Collection Collection - Oak Ridge North, TX
Mead Hall Comics and Games - Minneapolis, MN
FOS Comics - Mobile, AL
Arcadian Comics - Newport, KY
Local Heroes Comics - Norfolk, VA
Dr. Comics - Toronto, Ontario in Canada
Jesse James Comics - Glendale, AZ
Happy Harbor Comics - Edmonton, Alberta in Canada
Emerald City Comics - Clearwater, FL
Mayhem Comics & Games - Ames and Des Moines, IA
I.E. Comics & Games - Hemet, CA
Gen X Comics - Bedford, TX
Silver Snail - Toronto and Ottawa, Ontario in Canada
The Toonseum - Pittsburgh, PA
Alter Ego Comics - Bellevue, WA
eXpert Comics - Montreal and Ville LaSalle, Quebec in Canada
Asylum Comics - El Paso, TX
Hypno Comics - Ventura, CA
Star Port - Lynchburg, VA
Heroes Landing - Clermont, FL
Comics Mexico - Mexico City, Mexico
Comic Book Hideout - Fullerton, CA
Escape Pod Comics - Huntington Village, NY
Urban Legends Comics - Mesquite- TX
Viking's Closet - Illinois
Geoffrey's Comics - Gardena, CA
POP Store - Parma, Bologna, and Torino, Italy

KINGS Comics - Sydney, Australia
Mayhem Comics and Games - Ames, Iowa
Jesse James Comics - Glendale, AZ
Stadium Comics - Brampton, Ontario
I.E. Comics & Games - Hemet, CA
Comikaza - Tel Aviv, Israel
Cosmic Comics - Las Vegas, NV
Krypton Comics - Omaha, NE
Hypno Comics - Ventura, CA
HOT Comics - New Hope/Richfield, MN
Dragon's Lair Comics and Games - Austin and San Antonio, Texas
Space Cadets Collection Collection - Oak Ridge, Texas
G & B Comics - Singapore
Silver Snail - Toronto, Ontario
Comics, etc. - Brisbane, Australia
Decomixado - Mexico, Ciudad de México, Mexico