Diamond Retailer Best Practices Awards: 2016
SPRING 2016
Astro-Zombies – Albuquerque, NM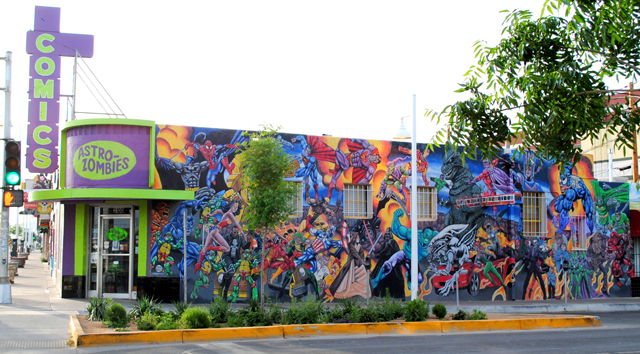 When we moved into the corner location years ago we knew we wanted to have a mural on the side of the building, something fun for the whole community. Being on Route 66 we wanted to get back to the old time feel of huge signs and elaborate murals decorating the neighborhood, some lost Americana if you will. There is a well-known local artist named Dave Briggs and when I asked him about doing it he was shocked. It seems since he was a kid and first drawing there was one wall he always wanted to paint and this was it!!! The wheels we set in motion.
We gave Dave artistic freedom to do as he wished and our only requests were for certain characters to be immortalized (for instance I asked for all 4 original turtles all in red bandanas as TMNT is the whole reason I own a comic shop!) otherwise he could go about it as he wished. His vision was amazing and had something for everyone. There was an old sign still attached to the side of the store from when it had been an Apothacary years ago and he turned it into a 3D bus being attacked by Godzilla, just amazing!!
The bank next door to us loved watching it develop and still to this day thank us that it is the backdrop for their offices.
The CW TV Station used it in an advertising campaign for The Big Bang Theory. It was really cool to see billboards all over the city featuring the cast in front of our wall.
Charlie's Comic Books – Tucson, AZ
I've been selling comics in Tucson, Arizona for over three decades and opened my own shop over fifteen yeas ago. Since that time I've been working seven days a week which caused me to have to cancel the volunteer work that I used to do on my days off. I realized that I had to do something to give back to the community that supports me and my family so I began hosting quarterly benefits with different charities as the beneficiaries.
The wonderful local artists embraced this idea and show up and provide free sketches for the seven hour event every three months. They also each produce an original piece of artwork, themed for the different events which we sell in a silent auction. Many artists that can't attend donate original art or hand made crafts to help out the beneficiary. I also have a raffle, one dollar per chance to win graphic novels and action figures.
The most recent event was held on Saturday, February 6 and had a Valentine's Day theme. We raised $1,425.00 for EMERGE: CENTER AGAINST DOMESTIC ABUSE.
Past events, beneficiaries and totals include:
February 2013 St. Jude Childrens Research Hospital $500.00
May 2013 Community Food Bank $600.00 (plus 60 pounds of food)
August 2013 Emerge $700.00
November 2013 Primavera $700.00
February 2014 Red Cross (for Japan relief) $600.00
May 2014 Salvation Army $950.00
August 2014 Casa de Los Ninos $765.00
November 2014 Pima Council on Aging $825.00
February 2015 Youth on Their Own $1050.00
May 2015 Angel Charity for Children $1150.00
August 2015 St. Jude Children's Research Hospital $2150.00
October 2015 Community Food Bank $1250.00
Level Up Entertainment – Mays Landing, NJ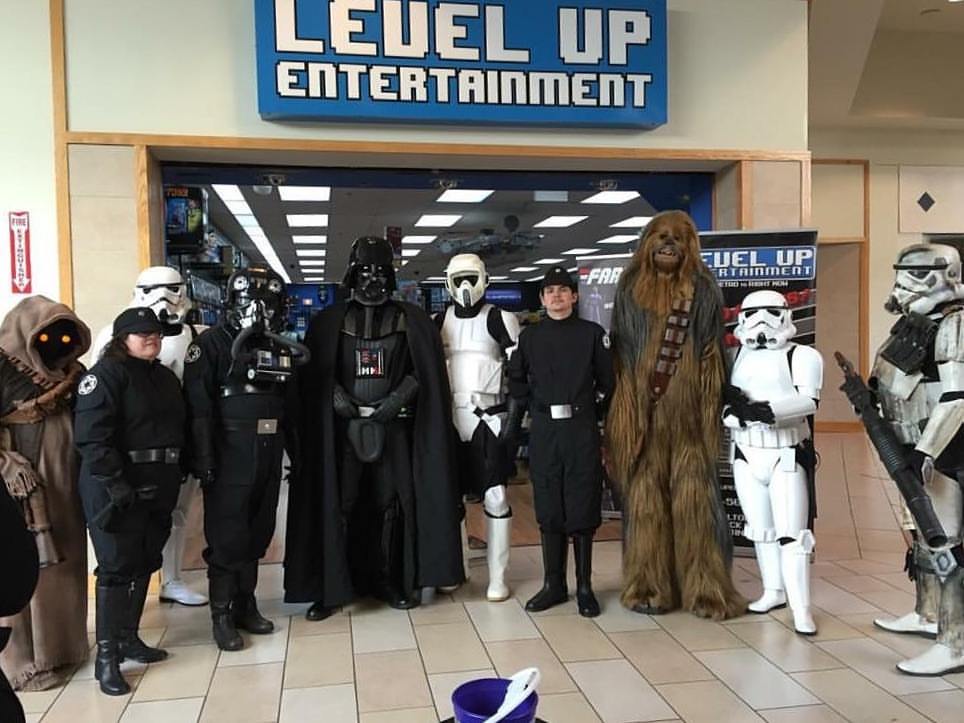 Every year our store puts a lot of effort into the two big free comic days: Free Comic Book Day and Halloween ComicFest. Our Free Comic Book Day routinely draws in over 4,000 people to our mall and last year we set out to grow our Halloween ComicFest event. We like to think that we succeeded with an estimated 2,000 attendees.
The main feature of 2015 (other than the comics) was our costume contest. Held on a full stage in the center court of the mall and judged by a panel of professional cosplayers, the contest featured over 100 contestant across multiple categories including Best Adult Male & Female, Best Group, Best Kids 0-5, and Best Kids 6-12. Winners were provided with a trophy and prize package in a custom printed canvas bag.
In addition to the free comics given away, we also supplied attendees with free candy and the first 200 people to walk through the door received a custom printed Halloween ComicFest tote, ideal for trick-or-treating later that night.
The event also featured a number of special guests from local comic creators to a special effects make-up artist who provided movie quality effects make-up to attendees.
Rounding out the event's activities were raffle prizes, board game demonstrations, and a store-wide sale. The event was promoted in advance with a social media campaign, print marketing, and a float in the local Halloween parade.
We were very proud of how the event turned out this year and can't wait to do it again.
All About Books & Comics – Phoenix, AZ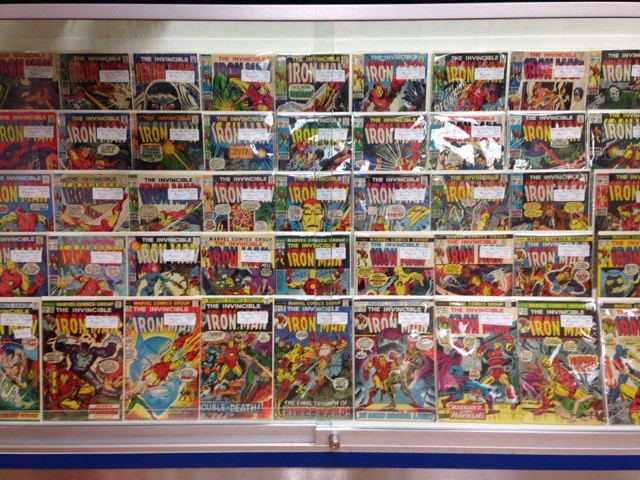 With 16 custom made back issues shelves holding 768 short comic boxes, we have over 115,000 back issue comics sorted alphabetically on the display floor with easy access for customers. Each box has a custom Back Issue Sticker with our Store Logo. In addition we have over 100 boxes behind the desk of over 15,000 Gold, Silver and Bronze comics that customers can view a box at a time at the counter. Our glass cases hold rotating displays of back issues, and our walls are adorned with changing selections of back issues. We have selections of all genres, including, Atlas, Gold Key, Dell, Classics Illustrated, Westerns, War, Horror, Archie, Funny Animal, Marvel, DC, Image, and Independent companies. Add the 75,000 99 cent comics in our discount comic hub and our back issue selection is the largest and most organized in Arizona.

All About Books & Comics – Phoenix, AZ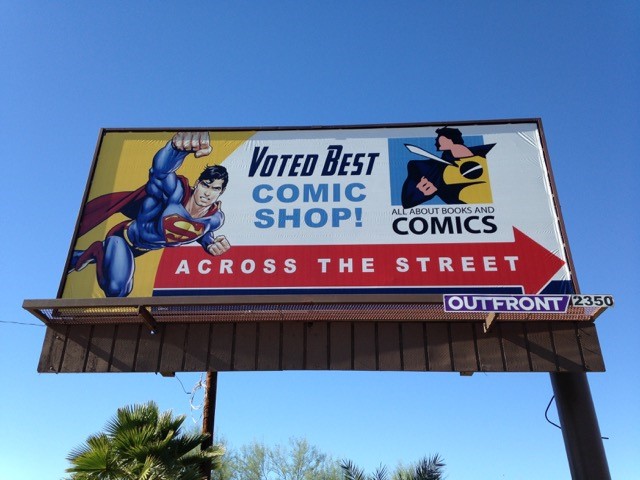 In October 2014 we found out that we had lost our lease in a location we had been well established in for 15 years. We worked tirelessly to find a location within walking distance so as not to lose our customer base. By the end of December we had signed a lease and were ready to let our customers know that we found a location around the corner. Ww announced with the them of "Turning the Corner" in 2015 which we did figuratively and physically.
The problem was we had a few months and limited budget to turn a gutted storefront into a beautiful new shop. We created a successful Kickstarter campaign and with the help of our community we were able to turn this gutted store into this beautiful new location.
***
SUMMER 2016
Space Cadets Collection Collection – Oak Ridge North, TX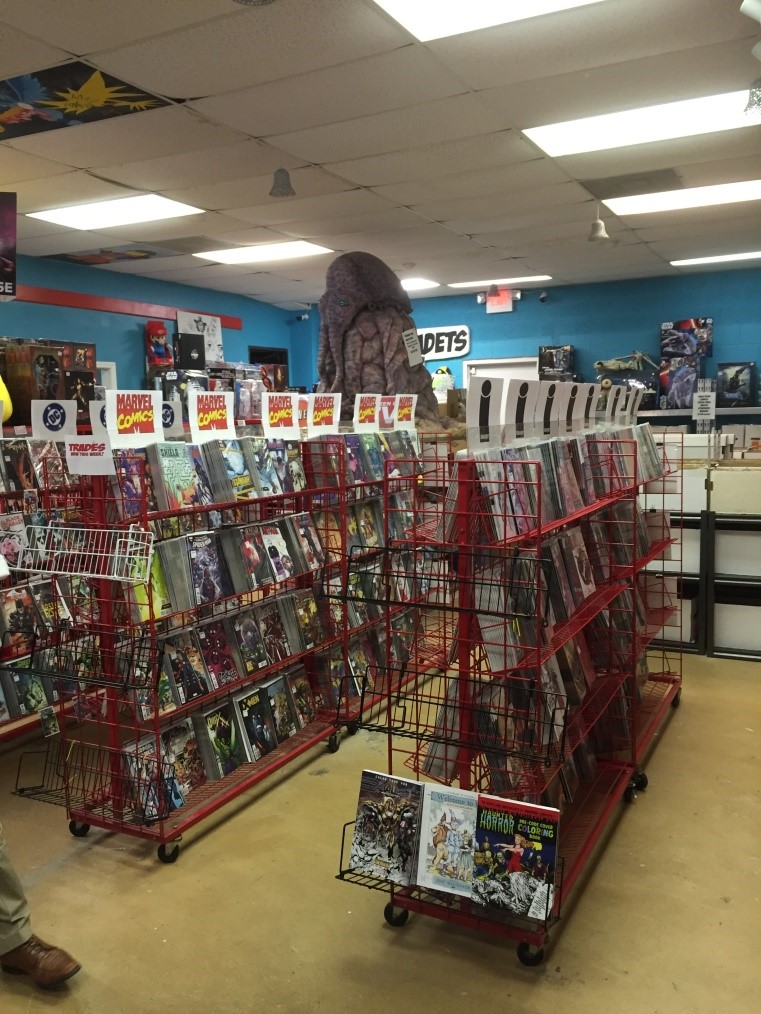 We lay out our new comic book section in a very specific and different way. Because we want our customers not to just pick up the brand new comics, but easily find recent back issues, our new comic book racks include all titles and issues from the last few months. We simply place the newer comics in front of the ones from the month before. Comics are organized by company and then in alphabetical order within the company. We also bag and board everything and mark the new comics for the week with a sign hanging in front of it. We also use hanging signs in front of comics to place reviews and recommendation signs. We pick several books a week to place in our 100% returnable section. If our customers don't love them, they can bring them back within 7 days and trade for a different comic.
1st Edition Comics – Peachtree City, GA
We have found a large signal to direct our clients to our product while maintaining our theme and aesthetic. It is both eye-catching and functional. Additionally our logo is a warm greeting as our clients enter the store. We use it for promotional reasons and is also a great way to advertise right when clients enter the store and is easily visible from the outside.
Challengers Comics + Conversation – Chicago, IL
Our current window display was designed by Chris "Mini Marvels" Giarrusso, as homage to the Official Handbook of the Marvel Universe covers. A group of Heroes (from all publishers) are excitedly running towards Challengers' front door to get comics! We gave Chris a list of characters we wanted (GrimJack, Zot, Power Pack, Doctor Who, etc.) and he chose the rest. With 72' of horizontal window space along our front wall, we really wanted a colorful, eye-catching display to make Challengers stand out to everyone passing by. Thanks to Chris G., we are easily visible from the street, the nearby train platform and the elevated bike trail a block away. We also have street lamps right out front, so our windows are seen all night. And best of all, Chris repeated our favorite Mini Marvels Daredevil joke. I won't say what it is, but you'll know it when you see it…
And for Sidekicks, our all-ages add-on space, we recycled previous Challengers window art from Art Baltazar, Takeshi Miyazawa, Colleen Coover and Chris G. (again). All of those pieces were also designed especially for our windows and we were happy to give them added purpose once our newer designs were put up



Pulp 716: Coffee and Comics – Lockport, NY
Employee benefits:
1)Read at least one comic or tpb per shift, while on the clock.
2) Unlimited paid sick time. If you're sick, you need not worry about losing pay. That being said, we only had a total of 4 sick hours used for our entire staff of (15 employees) in the past year. People don't call in sick when they love their job.
3) Paid time for working with children with reading disabilities: We pay our staff to sit with kids, once per month, to help them read comics 1 on 1. We call it the POWer Reader Group.
4) Cosplay everyday if you want to! Where whatever you want! Employees get creative, customers join in the fun.
The results: Happy employees make the customer experience unforgettable. We motivate our staff to have fun. Happiness is contagious!



Comikaze and Toys – Goodyear, AZ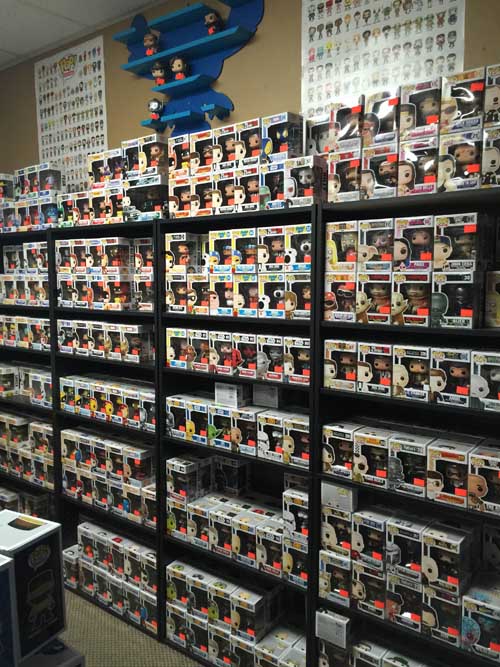 For starters we are a humble comic shop here in Goodyear AZ. We carry a wide variety of Action Figures, Pops!, new and back issue comics books, as well as hot toys and sideshow collectible statues. We try to stay on top of our inventory to maintain what toys and comics are hot on the market and we try to ensure we have them in stock for our customers. Also if a customer would ask us a particular item that we do not have, we would make sure to order it so that when the next person that is interested in the same item we would have it available for purchase.
***
FALL 2016

Jesse James Comics - Glendale, AZ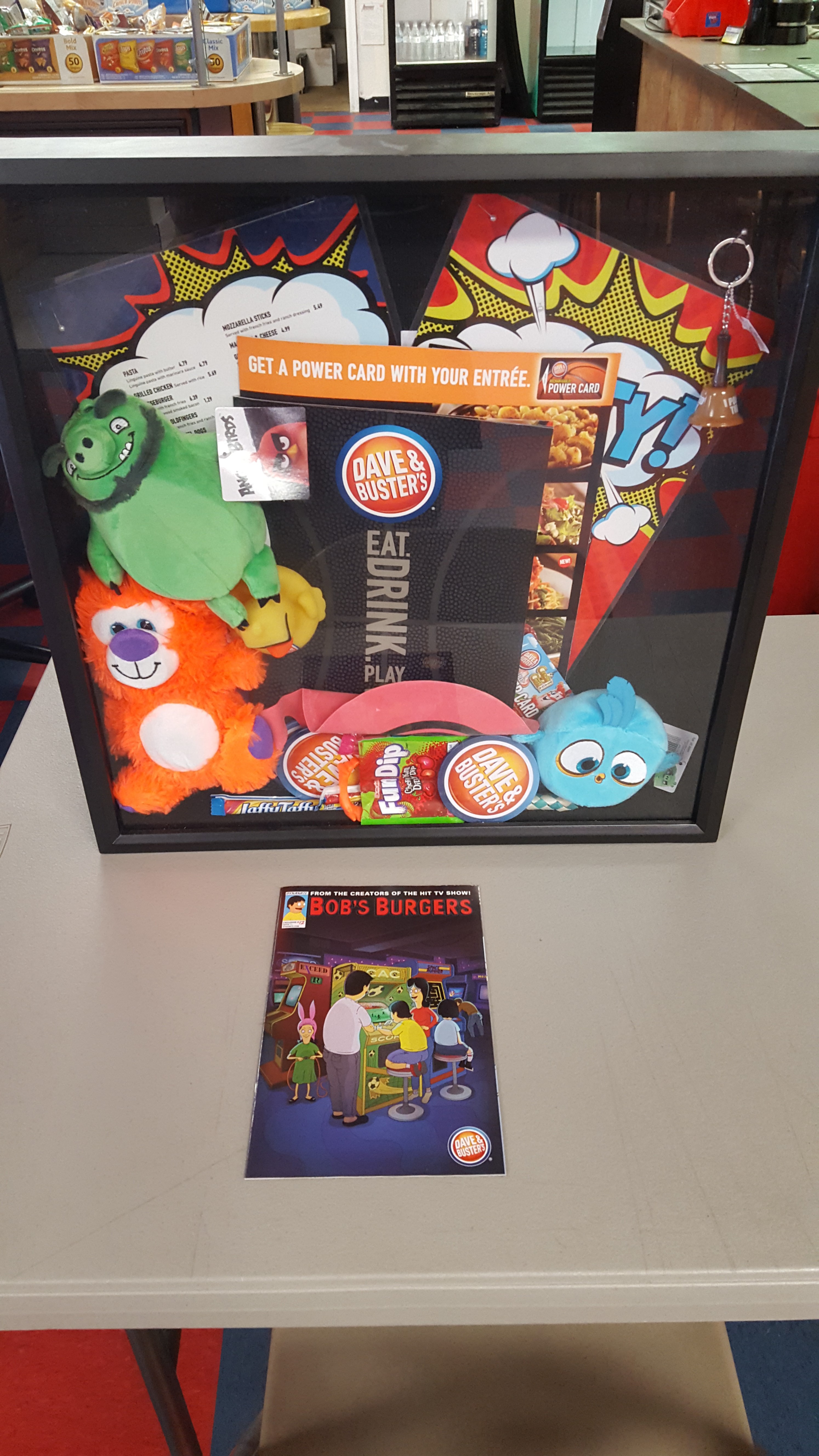 This year we were able to team up with Dave and Busters. Not only to give our comics in D & B Bags, including other swag like coupons and game cards. In return we are able to use their pool area for after party signing and other events at no or little charge. We have teamed up also with restaurants and named Burgers for events. We have done Exclusive teams up on comic covers with Dave and busters and Exceed (bottling company).
Yancy Street Comics - Port Ritchy, FL

Our Free Comic Book Day this year was our biggest in 13 years of doing this! We had 20+ great artists & writers here signing & sketching for fans. We also hold a costume contest every year & this year we had Civil War movie tickets for prizes & our contest was judged by local radio DJ, Jesse Kage. We gave away thousands of free comics & held a sale throughout the entire store. We are so happy to bring the community together for such an incredible day & we have already been planning for our next years FCBD to be even bigger!
All Star Comics – Melbourne, Australia
Since we first opened we have always seen the importance in having a fully stocked and accessible kids/all ages section.
What started as four shelves close to the younger readers eye level in our first location, has since expanded to it's own large section of nearly 250 square feet in our new location. Situated at the very front of the store, it is one of the first areas people see upon entering the shop.
We have maintained having shelves that are lower to the ground than our regular bookshelves to help make it as easy as possible for young readers to look through our selection.
With extra space we've been able to expand our range of all age books and single issues by 3 times of our previous range.
The space we have dedicated to this important section of the store means we've also been able to display a lot more of the books face forward to grab young readers attention, while having the space to arrange the books in a extremely organised manner.
The area is also fitted out with a number of small seats and a vintage wooden school desk for kids to sit themselves up on to comfortably look through books.
We are extremely proud of our Kids/All Ages Section and are very happy for the opportunity to share it with other comic retailers around the world.
Gods & Monsters - Orlando, FL
We placed a heavy focus on theming throughout our store and lounge when we designed it. We had our talented artist friends (professional scenic artists working for Disney & Universal) help us bring our favorite fandoms to life. Our checkout area is themed after Arkham Asylum to great detail. The staff even wear lab coats with security clearance name badges to add to the experience. We had local artists do beautiful murals for Marvel, Sandman, Hellboy, Angela, and Heavy Metal and Conan cover artist, Toni Taylor did a stunning 6' tall 4-sided oil painting around our fantasy column. Our Genre sections for DC, Marvel, Adventure, Sci-Fi, Fantasy and Horror are also fully themed out complete with FX lighting. The concessions/craft beer bar in our Offworld L.O.U.N.G.E. is themed after the White Dragon Noodle Bar in Blade Runner. We even have special themed booths made for large gaming groups. Booths on one side of the lounge are themed after the Nostromo in Alien, and the booths on opposite end are themed after taverns in Skyrim. We also have a column themed out after the modern Mad Max movie and a themed out Walking Dead section complete with contagion pod with the Teddy Bear Girl zombie contained inside.