Diamond Olive Branch Distribution Center Upgrades Underway
Starting this month, Diamond began implementing new processes and procedures at its Olive Branch Distribution Center that include new software, hardware and employee training. With the multi-million-dollar investment in operations, retailers will experience benefits including access to more products, increased accuracy and fewer damages.
"When we were developing the plans for expansion and upgrade, we knew this would end with a long-term investment that benefits both our customers, suppliers and our employees," said Vice President of Purchasing, John Wurzer. "Our expansion at Olive Branch has greatly enhanced our ability to grow with the industry and provide faster, more efficient service for our retailing partners."
These changes include:
Increasing Storage Capacity
A mezzanine (second floor), which took six months to construct, was added to expand the pick modules. This, in addition to a fourth, expanded pick module, gives Diamond over 21,000 new locations for product to be stored and picked.
A new space for 16,000 additional pallet positions have been added to store backstock.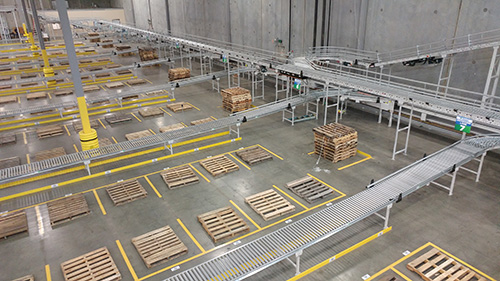 Newly constructed mezzanine and space for 16,000 pallet positions allows for more product to be stored and picked
Increasing Throughput Capacity (amount of or items passing through the warehouse)
Over one mile of conveyer belts, which move product and orders through the warehouse, either to other parts of the building or to shipping trucks, were added.
New machines that automatically weigh boxes, measure their dimensions, and apply shipping labels were purchased to automate package information and reduce the potential for human error.
A mounted monorail, which circulates an unending stream of empty boxes, was constructed so workers can focus on picking and packing instead of finding appropriate box sizes.
An automated conveyer line was implemented that sorts boxes by barcode. The barcode reader automatically moves the boxes to the appropriate pallets or trucks for delivery, again reducing the potential for human error and ensuring that boxes go to the correct destination.


Miles of conveyor, cutting-edge package identification machinery, barcode readers, and box monorail will move product and orders through the warehouse with accuracy and efficiency
Increasing Accuracy
Diamond will be streamlining its pick method substantially. Previously, the process required that boxes move through the warehouse on a loop and picking teams used headsets to tell them which items to pick. Workers put picked items in specific boxes as they moved through. Under the new system, workers pick all product for a group of orders at once, scanning barcodes on the product to ensure correct items are selected. These items go into specially designed totes and move to an order sortation area.
A new order sortation area requires a second barcode scan before it tells the worker which orders need that item.
Order packing specialists choose the appropriately sized box and pack the box in such a way as to minimize damage and maximize shipping efficiency. While doing so, they scan the items a third time. Any items that are missing or are identified as damaged after the third scan are flagged and pulled from shipment, before the shipment is sealed and sent out.
Three scans means three opportunities for accuracy before shipments leave the warehouse.
New picking and packing methods are now in place, with state-of-the-art putwall equipment to

optimize order fulfillment while lessening room for human error
"Altogether, these expansions and improvements represent one of the largest investments Diamond has ever made in our distribution network," Wurzer said. "Every dollar and every hour we've spent bringing these plans to fruition we hope will translate into more accurate shipments, with fewer damages, that can help our retailers grow their businesses -- and, ultimately, help grow the entire industry."