Diamond Retailer Best Practices Awards: 2017
Fall 2017

Dragon's Lair Comics & Fantasy - Austin, TX
We take pride in our Facebook page as being the number one way to interact with our customers. Our Facebook page is a platform used for posting about new products, events highlights, general updates, and much more. The most important thing for us is to keep our page current and we achieve this by having full time staff in charge of the platform who's sole job is to update the page, answer direct messages from customers, and monitor our logistical standings. As of writing this, we have 11,495 page likes and a 4.8 star review out of 271 total reviews. We also try to keep our page fresh by taking the time to design our own banners and logos. Every week we update our Facebook Events with exciting things going on in the store to make sure our customers know there is always something to do.
Our Facebook Page is important to us, we update it daily with important posts and events, answer messages in a timely fashion, and engage with our customers who interact with our posts. We hope you will consider our page for Diamond's Fall BPA category for Best Facebook. Thank you!

Happy Harbor – Edmonton, Alberta, Canada
In May of 2016, we began our Comic Book Fair program. While like a typical book fair program, we have extra features that make it more worthwhile to libraries.
First, we man the comic book fair ourselves so there's no need for the school to get volunteers or have to deal with set up, tear down, or handle cash. A welcome relief, for sure!
We also bring a wider selection of books than a normal fair, with a minimum of 100 different titles (floppies, TPs, GNs & Manga), which we also constantly revise and update.
We offer two separate comic book fairs for schools, one with books appropriate for grades K-6 and another fair for grades 7-12. When we visit public libraries, we bring an even broader mix of titles for the general public.
The biggest feature for the program is that we have 2 local artists accompany us on each fair who meet with kids one-on-one to review their art work and give them tips. There are kids that spend their entire day with the artists! The arts programs love having outside artists come to talk to the kids and it has a huge impact on them.
After the fair, we donate 20% of total sales (pre-tax) back to the library in curated comics. To help make the selections we review what each library currently has in stock and analyze their cycle counts. As well, the school/libraries get their discount (30-35%) so they get even more books for their credit. This helps motivate them to promote the sale. We provide pdfs of posters and flyers that can be easily distributed or printed for promotional assistance.
From May 2016 to June 2017, we visited 27 schools/libraries and donated more than $3300 worth of comics back, inspiring new readers and creators for years to come by putting comics in their libraries! It's a great program that helps establish an ongoing relationship with schools and libraries across the region!
Our webpage with all the details - http://www.happyharborcomics.com/page_schools.shtml#programs
Gods & Monsters - Orlando, FL
In January of this year, our mall closed down, giving all tenants 2 weeks to relocate. At our previous location, we had a large 15,000+ sqft store, with an attached 4,500 sqft bar and gaming lounge. We'd themed the bar there after the White Dragon Noodle Bar in Blade Runner, and the lounge had special gaming booths themed, on one side, after Skyrim taverns, and the other after the Nostromo in the Alien movie. But for the most part, the lounge was just open space, with lots of gaming tables for tournaments or special events.
With the sudden move, we were lucky enough to find something nearby, and get the store reopened by March. However, the new bar took us much longer to transfer the license and come up with something new for the theming. The new space is much smaller than our previous one, so we decided to do something more immersive with the bar theming this time. We created a post-apocalyptic fallout shelter, with heavy scenic nods to Mad Max, Tank Girl, Fallout, Alien, Bioshock, Borderlands, Portal, Terminator, Adventure Time and various other favorite post-apocalyptic comics, movies and games, which we named VAULT 5421. The VAULT entrance is hidden at the back of the store, with a sliding peep window, which gives it a secret lair feel. And the staff all dress in post-apocalyptic cosplay, to add to the immersive environment. We play movies like Mad Max, Terminator, Alien, Matrix, Turbo Kid, Tank Girl, Delicatessen, etc throughout the day, on the big screen TVs and on our projector screen over the bar. The music played is a mix of old vintage bluesy tunes (like you'd hear in the Fallout and Bioshock games), Dark Wave, Industrial, EBM, and some punk for good measure. Our lighting effects were done by a friend who does Disney's lighting, and our scenic work was mostly done by an artist friend who did a lot of work on Universal's theming, so the space is filled with extraordinary details everywhere you look. We have plans to add a separate sound system running echoey vault noises and alien and mutant creature sound effects to add to the immersion, as well as sound effects we can trigger every time someone orders one of our themed shots or cocktails.

Time Warp Comics - Boulder, CO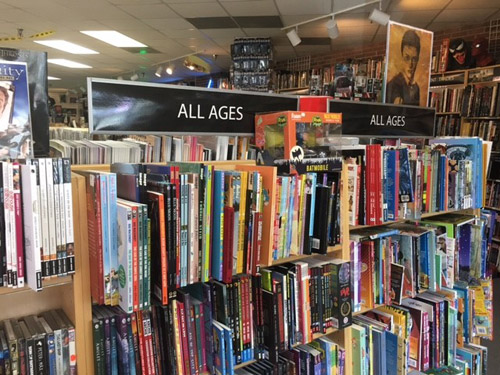 We have the biggest and best graphic novel section in the state of Colorado! We've accomplished that by breaking down several of the sections to highlight certain publishers or themes.
We have one section just dedicated to award winners,such as EIsners and Hugo's for instance. The major publishers have their own sections, such as Marvel and DC. We have a Joss Whedon section dedicated to all things Whedon. We have a great section for recommended graphic novels for books all the staff enjoys. We give a money back guarantee on every book in that section.
We have two racks dedicated to everything Vertigo, an end cap basically. Image has it's own section also. Manga is separated, as is our discount graphic novel section.All ages has it's own graphic novel section as you enter the store.
Also a rack with recent graphic novel, trade paperbacks is right next to the new comic release section.
Summer 2017

Comic Quest - Lake Forest, CA
We do sales to build interest and excitement. Not only is it to sell cool stuff, but also to bring in new people to become future lasting customers. So, we created a zombie day. Image offered Walking Dead for 25 cents, so we ordered 1,000 and gave them away, and made an event out of it.
* We attempt to make it memorable by decorating the store, and having the staff dressed as zombies. Taking (and posting) picture of staff and customers throughout the day.
*We made and decorated Zombie Cake and treats made by the staff. We had cookies stuffed in plastic skeleton and rice Krispy treats in the shape of brains.
*We made a Carnival Style Game of throwing hoops on grasping zombie arms, winners who could ring the zombies won prizes.
*Sale on Walking Dead comics and all the zombie games (board games, miniature games, card games, etc.), Toys, T-shirts, and more.
It wasn't so much about selling zombie stuff, although we did do that. It was about creating an exciting and memorable event. Something they would talk about when they got home. Something to make them curious what we would do next. They had a story to tell, they ate some brains and threw hoops on grasping zombies, and got a free comic from a zombie behind the counter. Not you everyday trip to a store.
Jesse James Comics - Glendale, AZ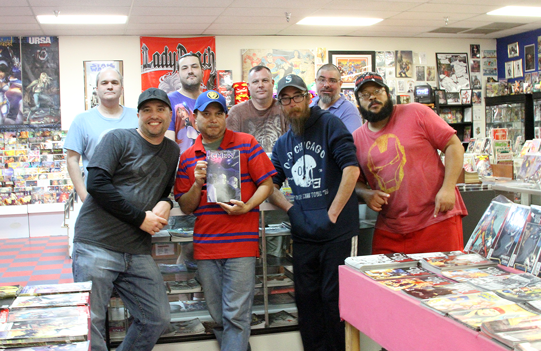 We try to keep up the morale at the store at its highest levels by including out team members on everything. We do a lot of get together and enjoy food and just hanging out. My parents are always bringing food as well for them. We also have put them on some of our exclusives or had them put their autographs on the exclusives. Making them part of the business and family is beyond important.

Haywood Comics - Asheville, NC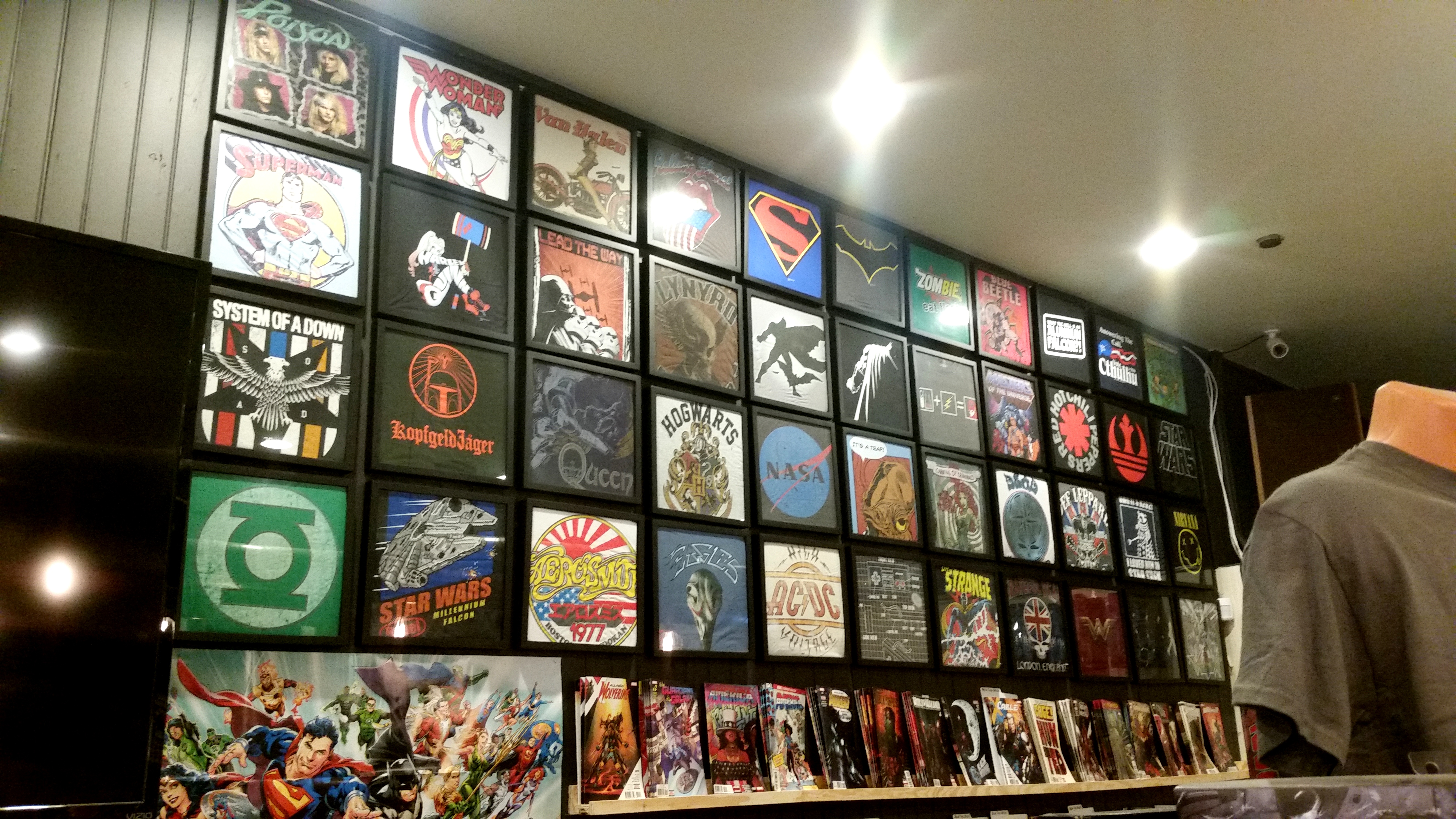 AA Comics and Cards - Lebanon, PA
We here at AA Comics and Cards are proud of our not only our sign, but our whole store front. Our 28 ft sign is prominently displayed right along the main street in front of a conveniently placed stop light. It is easily our best investment we've made. We think it captures the excitement and wide range of characters that comics can represent for readers.
---
Spring 2017

Comics, Etc., Queensland, Australia
"When we redesigned our store image and logo we decided that we wanted to create some functional and everyday promotional items that would advertise the store to our online AND in store customers. We wanted everyone to feel the "comics etc experience" no matter where you live.
In order for the items to be appreciated by all, we created our own packing tape that would be used for all parcels and all comics sold in the physical store. Each customer would also get a thank you card and balloon.
We also decided to make 2 different eco friendly shopping bags. One made out of a thick paper for short term use and one tote bag that you can use over and over again.
Lastly, we created a line of posters with stylised heroes that can be any hero your imagination allows!
Challengers Comics + Conversation, Chicago IL
Over the years the ChallengersComics.com website has undergone many changes and iterations, and the most recent re-design came about in January of this year. Our main purpose is conveying information. Store hours, location and phone number are important, so that is embedded at the top of every page, and while the design is clean and simple, there is a ton of other information contained on the site:
-Weekly New Release Lists
-Upcoming Event Listings
-About Us (photos of the shop and all current employees)
-Now on Order (the current Previews listings)
-Our weekly comics industry podcast Contest of Challengers
-Our weekly all-ages video recommendation series Parker's Pick
-A Twitter sidebar and links to all other social media sites
-Shopping! Bookplates, prints, signed books, exclusive covers, gift cards, etc.
-Downloads of our Subscription Sign-Up form and our Consignment form.
-Map and directions.
The left side of the site rotates between items and events we choose while all the clickable information comes up on the right. Best of all, the site is designed for easy mobile device usage. It was a big concern of ours to make the site as user friendly as possible, particularly for devices. And, we built and maintain the site ourselves, so no outsourcing is needed.
Comikaze and Toys, Goodyear, AZ


Mark loves his community and treasures its support, knowing Comikaze and Toys could not exist without it. In an effort to give back and make his business a force for good, Mark has worked alongside groups like the AZ Ghostbusters, Project Hero, and the 501st Legion to promote their varied charities. The store donates to local schools, Kids Need To Read, Diabetes research, AVM research, the Joe Niekro Foundation, the Department of the Army, veterans charities, and annually holds food drives, toy drives, book drives, and events to prepare care packages for members of the U.S. Armed Forces who have been deployed overseas. Comikaze and Toys is always eager to partner with a good cause or charity and frequently seeks out new ones. Recognizing the need to promote and nurture up and coming talent and creativity, Mr. Larracas regularly invites local comic book artists, creators, and artisans to showcase their wares and talents at the store.


Dragon's Lair Comics & Fantasy, Austin, TX
At Dragon's Lair Austin we pride ourselves on providing both the best and newest game offerings as well as more niche products from Kickstarter and small print publishers. Our board game section is located right at the front of our store and we even provide tables and a game demo library for our customers to sit down and try out a game before they commit to a purchase. Our library includes over 50 games and we are always looking to give our guests the best fit for their needs, whether it be a two player game for date night or a party game for large groups. The game section is organized neatly and alphabetically, making navigating easy and shopping relaxing. Card games have their own sub section as do our classic games and kids' games.
We rotate out monthly game publisher features on the endcaps of our section in order to highlight games and companies that might otherwise go under the radar. Employees take the time to write out personal recommends for their favorite games to display in the section and provide details and silent customer service to our players. We also have a New Games section which mirrors our New Comics section and highlights new game releases as we put them out for sale. All these elements combine together to form a unique and fun experience for both shopping and playing games, and encapsulates the fun and friendly environment we strive to provide all our customers.