Diamond Retailer Best Practices Awards: 2018
Fall 2018
The KidsKorner at DreamDaze Comics Fun & Games is a double decker comics corner full of fun! Designed originally as a reading loft for a first- grade classroom our focal point for the under 10 crowd is a hand-crafted wooden loft strong enough to support the three grown men who installed it.
The upper deck is a cozy nook filled with pillows and sample reading material. Down below is our bean bag chair and merchandise. Grown-ups and children alike relax in the chair while glancing through our all-ages trades and comics. Just like with the "grown-up" comics, we mark each New This Week issue and keep at least 3 previous issues immediately available behind the latest release of each title.
The selection of graphic novels, chapter books, board books, and other all-ages product is carefully curated by co-owner Joetta Pittman. Joetta has a Master's Degree in Library Sciences along with a Bachelor Degree in Child Development. And since introducing parents and young readers to the world of graphic literature can be daunting, she is always happy to help them find the perfect items for their children's interests.

All Star Comics Melbourne - Melbourne, Victoria, AUS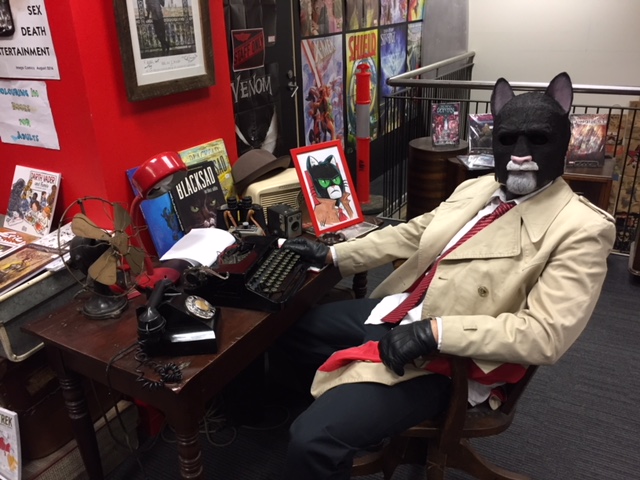 One of our favorite aspects of comic book retail is coming up with interesting ways that best showcase a series, creator or even a theme around the store. Probably our most successful display has been our recreation of John Blacksad's desk. The anthropomorphic hard boiled detective has the classic gumshoe's desk with all of the vintage tools of the trade.
Being big fans of crime noir, we took a chance on this European series when Dark Horse first released the English translation. We were just blown away by the quality of Juan Diaz Canales writing and the hauntingly beautiful Juanjo Guarnido art! We started to recommend the book to anyone that would listen and loved seeing the reaction it got from customers. It was then that we began to think it would be great to pay tribute to the detective in some way so when we moved to our current, bigger location we started hunting down pieces for this display, starting with junk shops, thrift stores and then eventually online auctions. We wanted each piece to have the right fit, from the bakelite radio and phone, to the Corona portable typewriter. It was important to us that it looked like Blacksad had just gotten up from his desk to go investigate a missing persons case or solve a mysterious blackmail case. There is the well worn oak chair,battered desk as well as vintage recording equipment and a super 8 camera for capturing any miscreants red handed! The metal blade desk fan and articulated lamp reek of long steamy New Orleans nights, with Blacksad trying desperately to find an answer to a puzzle that doesn't want to be solved.
We were lucky enough to be given a beautiful water color print of Blacksad by a friend which we put up over the desk as a finishing touch. We constantly get compliments for the display and have sold many books because it has piqued customer interest. The funniest moments come from kids who marvel at the "vintage laptop" and try desperately to work out how to use the old phone. We let them bash away on the typewriter and love hearing the parents tell them all about each item. One day we might get the chair repaired …..but what detective has the time to do that!
Comic Quest - Lake Forest, CA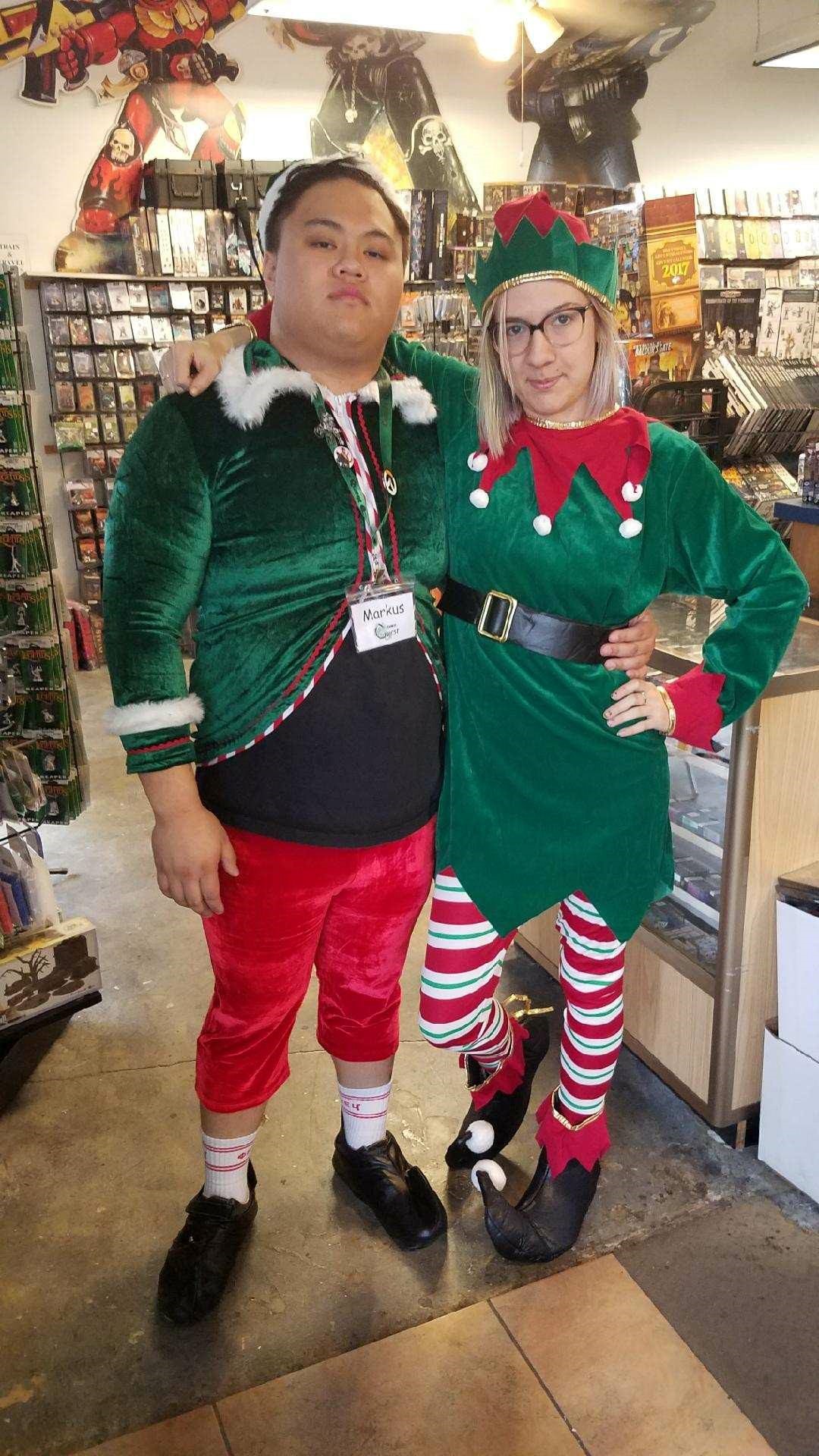 We celebrate the holidays hard but jolly. The 12 days before Christmas we do pop-up discounts on different items in the store. It keeps customers guessing and checking each day to see what's on sale. If they are thinking about you, they are more likely to shop with you (and not online).
We also continue to add decorations and events to keep the attention. We decorate the store with 'fairy boxes' of super-hero characters with Christmas tree lights. We also create the Batman symbol out of hundreds of Christmas ornaments (pixel art style). We paint our windows with famous superheroes in holiday attire. And we have our 'jingle bell' display to keep customers guessing (see the picture) . We also decorate our tree with PVC superheroes that we have screwed hooks into to make ornaments.
We also dress our staff as elves to keep the holiday cheer. And customers look forward to our treats. We make 'melted snowman' cookies, and Strawberry Santa's, and a Millennium Falcon made out of ginger bread.
To coincide with our Toys For Toys participation, we also show the terrible 'Star Wars Holiday Special' from 1977. Aired once and instantly disavowed by all. Nothing celebrates the holidays like bad Star Wars. All these decorations, treats, and events help bring in customers for the Holiday sale.

Treasure Chest Comics - Stafford, VA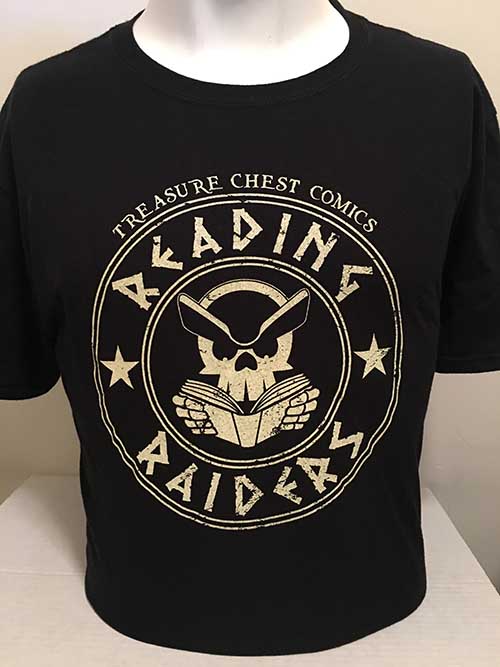 Our 100 percent cotton promo t-shirts designed by a local independent comic artist not only promotes our store, but also promotes our one-of-a-kind Reading Raiders library . At Treasure Chest Comics our exclusive library section was instituted to help promote literacy throughout the community. The proceeds from the sale of the shirts go back into the library for the purchase of new comics for its readers.
---
Summer 2018
All About Books and Comics- Phoenix, AZ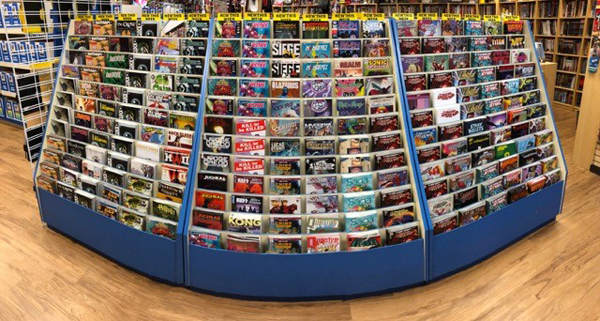 All About Books and Comics New Comics Section is displayed on custom racks alphabetically with approximately 1000 facings for maximum coverage!
One entire row is dedicated to the new releases each week so that customers can easily find the new comics. There is a sign hanging from the ceiling directing customers to the new releases as they walk in the door. We locate the new release near the rear of the store so that customers have to walk through the store and see other displays to maximize the shopping experience.
We have a yellow header card behind the top row noting they are new releases. We have a separate shelf for Variant Comics across the aisle from the new releases.
Additionally we have another 3 back to back rows of recent new comics with headers for those that are "New Last Week", "New Printing", "Recommended Reading" so that if someone misses the new "this week" comics they can find them alphabetically among the other the new comics. Our New Comics Section is clean, organized, alphabetical, comprehensive and easily located. All other new releases (trade paperbacks, magazines and specialty items) are all located on displays approaching the new comics stands.
AA Comics & Cards - Lebanon, PA
We have about 30 feet of display cases that wrap around our "wall" books and Card products. Inside the glass cases are high end merchandise like statues, gold and silver age Comics and rare cards. We have our Comic Suite POS at the counter with free promotional materials to hand out to customers. Impulse items also don the top counter space along with community happenings and local comic book cons. This visual counter space gives our customers much eye candy to see and inquire about items they are interested in.
Big Bang Comics - Dundrum, Dublin, Ireland
https://twitter.com/TheBigBang_

Pulp 716: Coffee & Comics - North Tonawanda, NY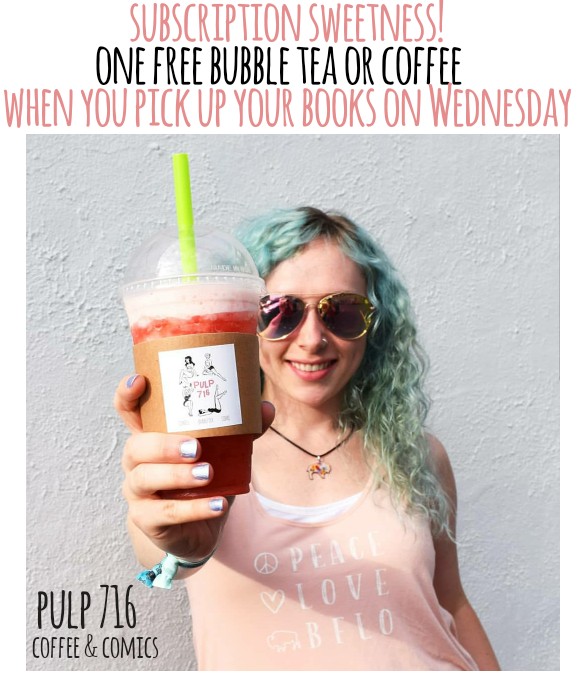 1) Free Bubble tea if you stop in on Wednesday to pick up your pull list!
2) Any variant is cover price. Our "First come, first serve" policy for our regulars means everyone has a chance to get any book we get. They love it and line up at the door on Wednesday. You should see their faces when they find a 1:100 variant available at cover price.
3) All comic books are "Buy 4 get 1 free".
Being right on the water means we get thousands of tourists visiting every week. We absolutely love having them visit us but we like to do something extra special for our regulars. We came up with a fun way to treat them by offering a free bubble tea, coffee, or fancy hot chocolate if they swing by on a Wednesday to get your subscriptions. To make it even better, we also hook them up with "Buy 4 books, get 1 free".
---
Spring 2018

Jesse James Comics - Glendale, AZ
Jesse James Comics is a 8000 sq foot Comic book store in Glendale Az.
We Offer
100+ genre and publisher areas throughout the store
Arcade with the most up to date Pinballs in the world
Lounge area + free WIFI
Gaming area fits over 120+ players
DC Comics boutique room
Marvel comics Boutique room
5 TV's playing different movies at all times
Snack bar Hot Dogs, Sodas, Chips
Online pick up area including shipping fulfillment center
$1.00 room (not in pics)
2 public bathrooms
Space Cadets Collection Collection – Oak Ridge North, TX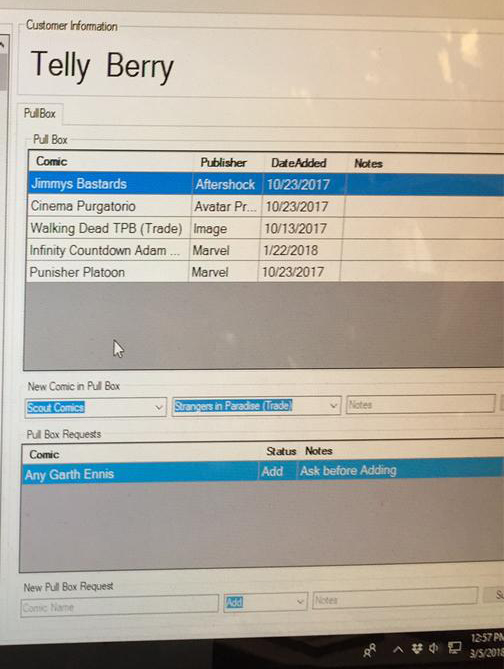 Comicopia - Boston, MA
Comicopia in Boston, MA has been dedicated to stocking manga since opening its doors in 1989, way back when it was still being published primarily in single-issue format. When the industry experienced hardship in 2010, we resolved to keep our stock anyway, acknowledging that manga are comics and deserve attention as much as any other sequential media. We have never regretted this decision, as we have been able to supplement our in-store sales with anime conventions since 2003, where we are usually the largest non-studio/publisher booth with the greatest selection of titles. In the store, we strive to stock as much of what is currently in print as possible, and only stock complete series (yes, even all 87+ volumes of One Piece!). Our philosophy is "all or nothing". If we decide to carry a series, we carry every single volume, because customers need to know that we'll likely have the particular volume of their series, when the mood strikes them to visit the store. Because manga is such a huge facet of our store, taking up about seven full bookcases (250 linear feet of space devoted to about 4000 different titles/volumes) and garnering about a third of our sales, we have a manga manager who oversees the stock, plans the shows, and provides outreach for anime and manga-themed community events.
Pittsburgh Comics - McMurray, PA
I had done my part promoting the Doomsday Clock Midnight Release. Posters in the window, Facebook Event and $20 boost the week before. So we were ready.

I even had a customer who was the manager of a local chain restaurant who's thing is the Smiley cookie. He modified a couple dozen for me.

We raffled off some Watchmen items and the signed Geoff Johns Doomsday Clock #1s DC was kind enough to send.

So that's kind of similar to a lot of stories. Here's where my story takes a turn.

The Saturday before the Midnight Release (Local Comic Shop Day) a lady, going next door to get her nails done, decided to drive through the front of my store. Not great timing. The tow truck pulled the car out and we were able to get it cleaned up. The board up people came, we got the electric back on and everything was basically fine. The store was fully functional again. Other than not having my 8x5' front window. There was no reason not to do the Midnight Release.

So 11:00pm comes and I open up to get ready. Nice group waiting for me. I assumed they were all excited for the book. Well, they were. But they also wanted to see what happened to the store. And they wanted to be supportive of me. Many came down to grab a couple things they didn't really need, but to help me offset the business I lost being closed on Saturday. And that really meant a lot to me. And the store was packed. Free Comic Book Day packed. I figured I'd be here for a little bit. I didn't expect to not finish the last customer at 2:00AM. So I chalk this up as my best Midnight Release yet.