SDCC 2018 PREVIEWS Exclusives Announced
May 03, 2018

Diamond Comic Distributors is offering 17 extremely limited PREVIEWS exclusives for this year's Comic-Con International: San Diego (July 19-22). The list includes variants of several popular Marvel titles, including The Amazing Spider-Man, Captain America, and Deadpool, a two-pack of Superman ViniMates vinyl figures to commemorate his 80th birthday and landmark Action Comics #1000, an assortment of PVC and PX statues, and more! Comic-Con attendees will be able to preview the items at the Diamond PREVIEWS Booth #2401 and purchase from participating retailers on the show floor.
"Diamond is excited to present this year's extremely limited con exclusives," said Diamond's Director of Marketing, Dan Manser. "We'll showcase these items at the PREVIEWS booth and then guide fans to retailers who'll have the exclusives available for purchase on the show floor. Fans who look forward to attending Comic-Con International: San Diego for the exclusives won't be disappointed with this year's selection."

For more information and to pick up our one-sheet listing retailers on the show floor where you can purchase our SDCC PREVIEWS Exclusives, make sure to visit the Diamond PREVIEWS Booth #2401.
---
SDCC 2018 PREVIEWS EXCLUSIVES
Comics
SDCC 2018 JIM HENSON BENEATH DARK CRYSTAL #1

Writer Adam Smith (Jim Henson's Labyrinth 2017 Special) and artist Alexandria Huntington (Avengers Origins) present a new sequel to the hit film! The realm of Mithra is being rebuilt by the newly-crowned Ember Queen Thurma. But while she seeks to save all people, a long-forgotten tribe of Firelings disputes the legitimacy of her reign... and they have proof that another Fireling is the true heir to the throne.
Limited to 3,000.
SDCC 2018 CHARLIES ANGELS #1

The Angels are back, baby! -The original Angels, Jill, Kelly and Sabrina! Travel back to the swingin' 70s, and revisit the butt-kicking, crime-fighting, mold-breaking lady detectives who took 70s TV by storm, ready to do the same to comics 40 years later! Break out your bell-bottoms, feather your hair, and jump back to a era of peanut-farmer presidents, gargantuan gas-guzzlers and foxy female detectives... for a globe-trotting adventure that's simply too big and epic for the 70s-era boob tube. Written by elderly Eisner winner and solicitation-writing former-superstar John Layman, and with art by his scrappy but lovable youngster pal, Joe Eisma. This is one comic you DON'T DARE TO MISS!!!!
Limited to 2,000.
SDCC 2018 SONIC THE HEDGEHOG #7 FOIL CVR (not final artwork)

Secrets revealed! After the dramatic events of the last two issues and the secret of Dr. Eggman, Sonic races off to shut down the organized Badniks at the source. Unfortunately, there's more at play than Sonic has realized, and more powerful players...
One of the first major villains of the new series revealed!
A special foil cover to celebrate entering the second half of Sonic's first year at IDW!
Limited to 2,000.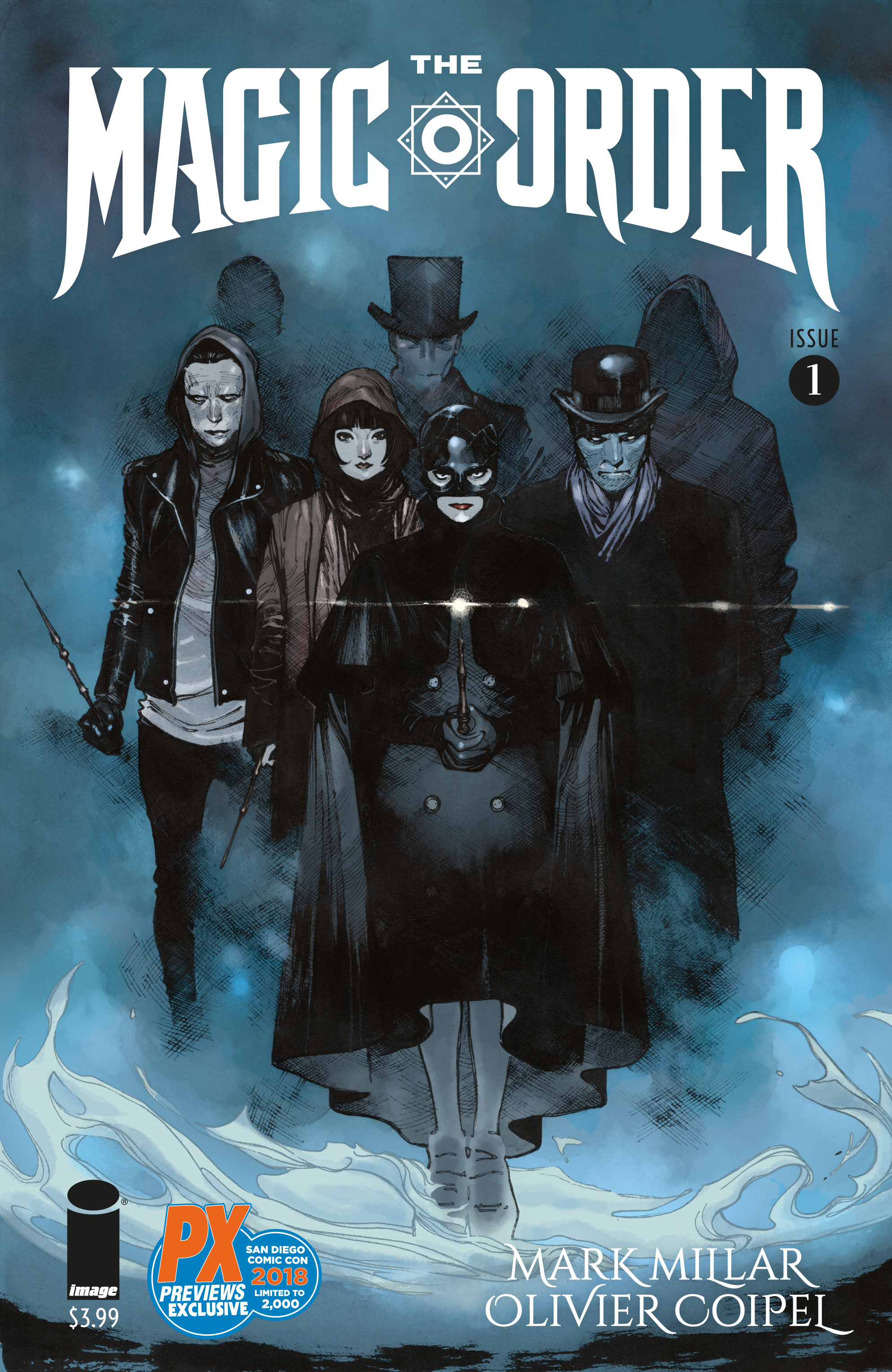 SDCC 2018 MAGIC ORDER #1 (OF 6)

We live in a world where we've never seen a monster, and The Magic Order is the reason we sleep safely in our beds. Magic meets the mob in THE MAGIC ORDER, as five families of magicians-sworn to protect our world for generations-must battle an enemy who's picking them off one by one. By day, they live among us as our neighbors, friends, and co-workers, but by night, they are the sorcerers, magicians, and wizards that protect us from the forces of darkness...unless the darkness gets them first. MARK MILLAR's first NETFLIX comic book, drawn by the incredible OLIVIER COIPEL (Amazing Spider-Man, Thor).
Limited to 2,000.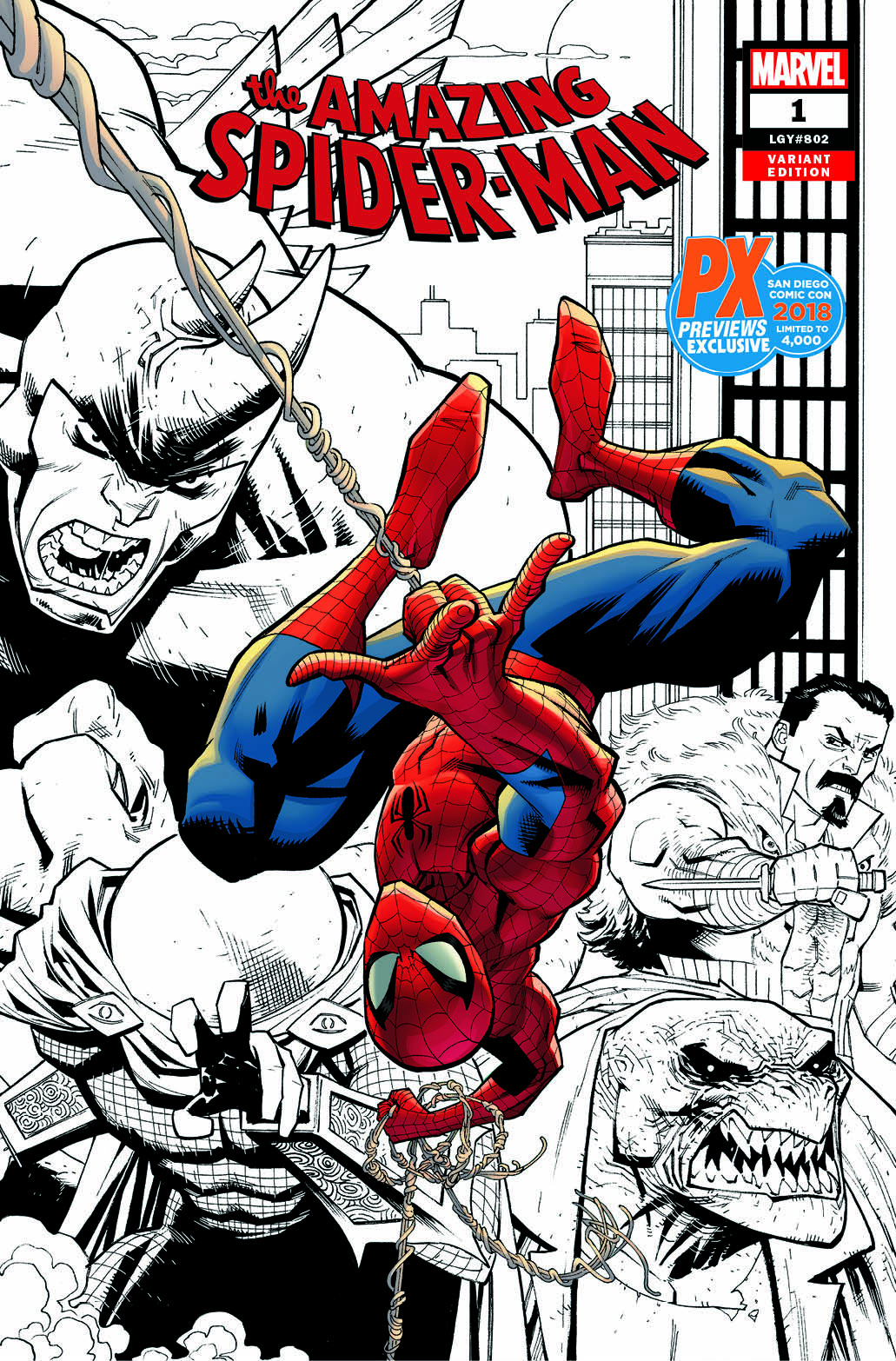 SDCC 2018 AMAZING SPIDER-MAN #1 VAR

An alien invasion hits New York City and the only one who can stop it is...Spider-Man?! But that's far from all you'll find here - a revelation from the past puts Peter Parker's job, relationships, and whole life in jeopardy! And if even that's not enough, you'll see a new roommate, new love interests - and a new villain! Spider-Man goes back to basics courtesy of Nick Spencer (SECRET EMPIRE, SUPERIOR FOES OF SPIDER-MAN) and the Marvel debut of RYAN OTTLEY (Invincible)!
Rated T
Limited to 4,000.
SDCC 2018 CAPTAIN AMERICA #1 VAR

IT IS WINTER IN AMERICA. For over 70 years, he has stood in stalwart defense of our country and its people. But in the aftermath of Hydra's takeover of the nation, Captain America is a figure of controversy, carrying a tarnished shield...and a new enemy is rising!
Who are the Power Elite? And how do they intend to co-opt and corrupt the symbol that is Captain America?
Rated T+
Limited to 4,000.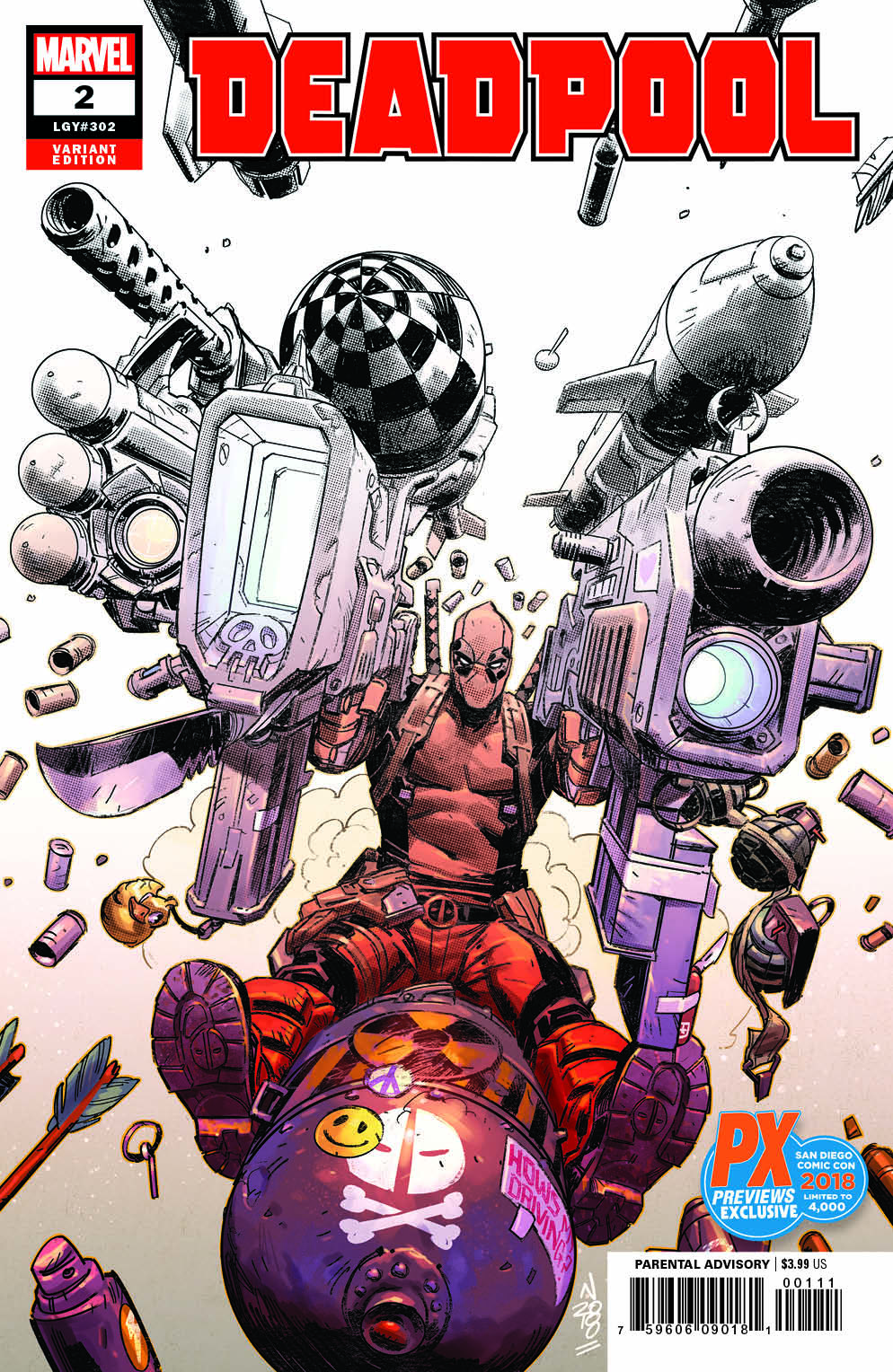 SDCC 2018 DEADPOOL #2 VAR

COSMIC CALAMITY!
• A strange and powerful being from outer space is coming to destroy Earth - but WHY?
• WHO CARES?! Deadpool is totally going to merc it dead! Take that, space nerd!
• Ummm, that's the right thing to do, right? And...Wade can do it? Right? And there totally won't be any repercussions, right? RIGHT? I, uh...I've got a lot riding on this... Parental Advisory
Limited to 4,000.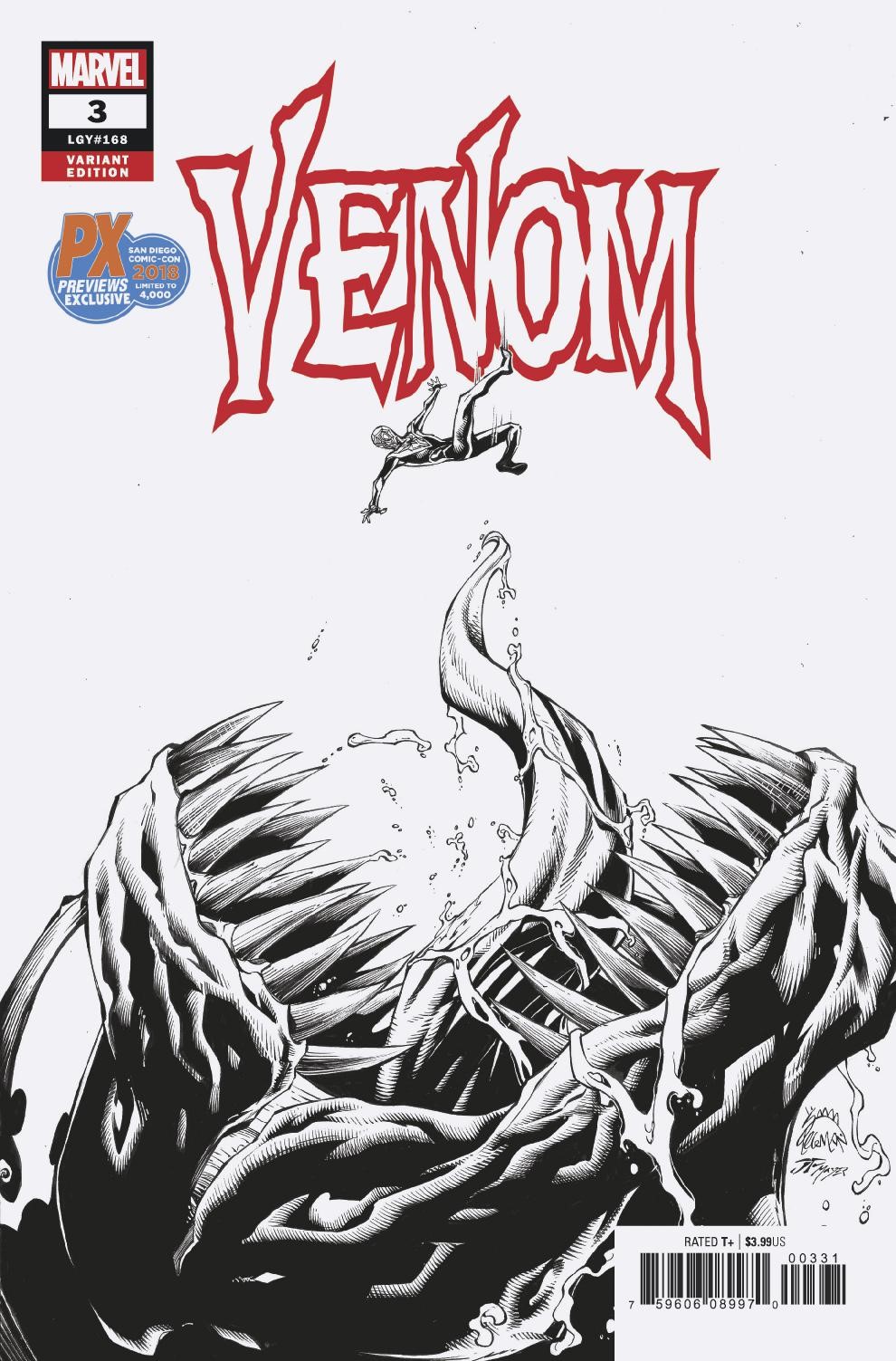 SDCC 2018 VENOM #3 VAR

• Still recovering from his injuries, Eddie Brock - the Wicked Web-Slinger known as VENOM - has to defend NYC against the most powerful foe he's ever faced!
• The only thing standing in his way? Miles Morales...SPIDER-MAN!
• Though Eddie and the symbiote have no qualms with this particular web-slinger, the same can't be said for Miles' feelings about Venom...
Rated T+
Limited to 4,000.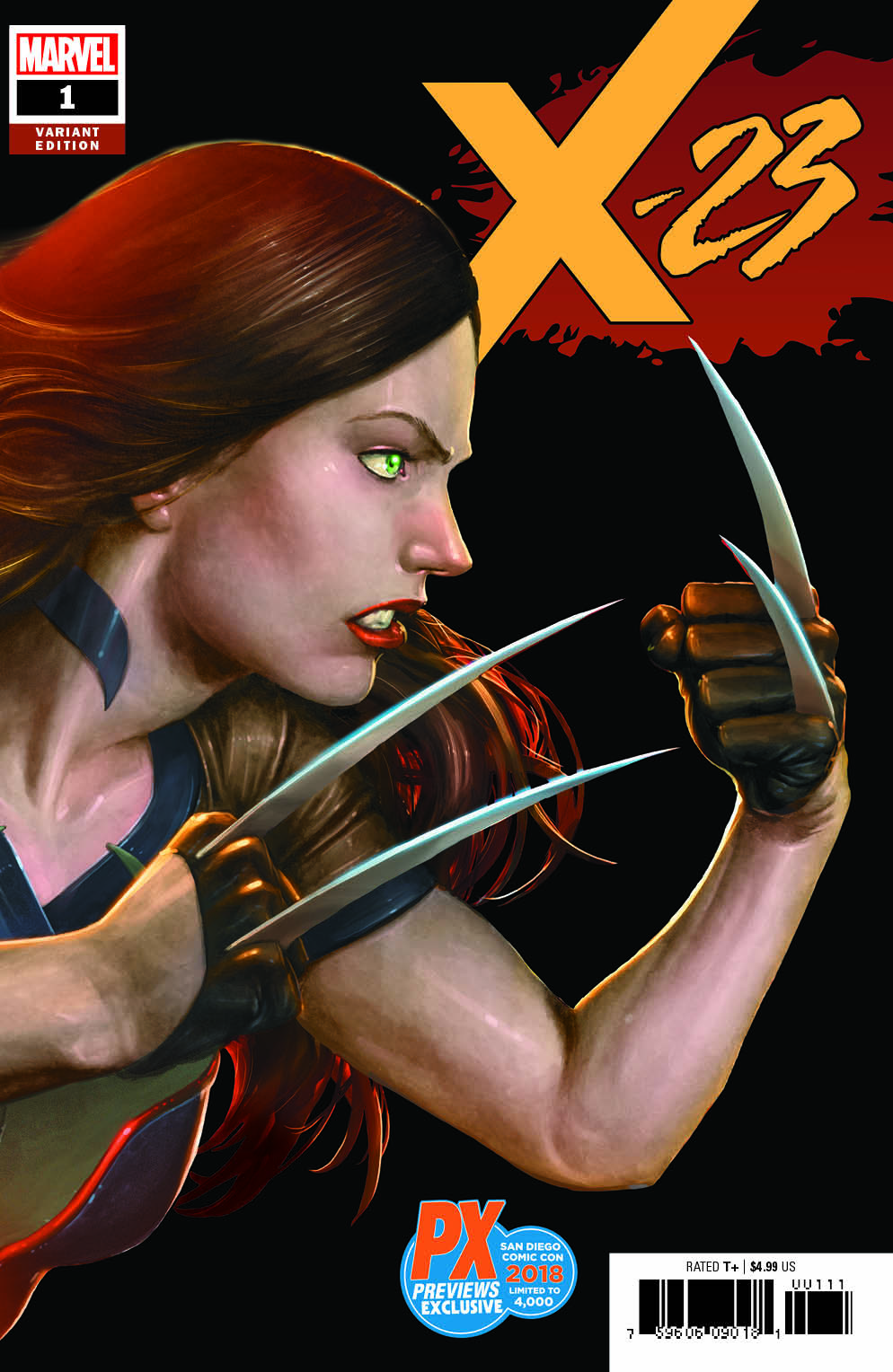 SDCC 2018 X-23 #1 VAR

Cloned from a warrior, raised as a killer, Laura Kinney has gone through hell and come out the other side a hero. After a stint as the All-New Wolverine, she returns to her roots as X-23 to make sure no one ever has to go through the horrors she did. With her sister Gabby and their pet Jonathan in tow, X-23 forges her own destiny in this new series by Mariko Tamaki (HULK, HUNT FOR WOLVERINE: CLAWS OF A KILLER) and Juann Cabal (ALL-NEW WOLVERINE, ELEKTRA).
Rated T+
Limited to 4,000.
---
Merchandise
SDCC 2018 DC COMICS 80TH ANN SUPERMAN VINIMATE


It's Superman's 80th birthday, and in the wake of his landmark 1000th issue, Diamond Select Toys is offering this commemorative two-pack of DC Vinimates vinyl figures! Based on his first appearance and modern-day look, these two 4-inch vinyl figures are sculpted in the block-figure style and strike trademark Superman poses. Limited to only 1,500 pieces, this exclusive two-pack comes packaged in a full-color window box. (SRP: $20.00)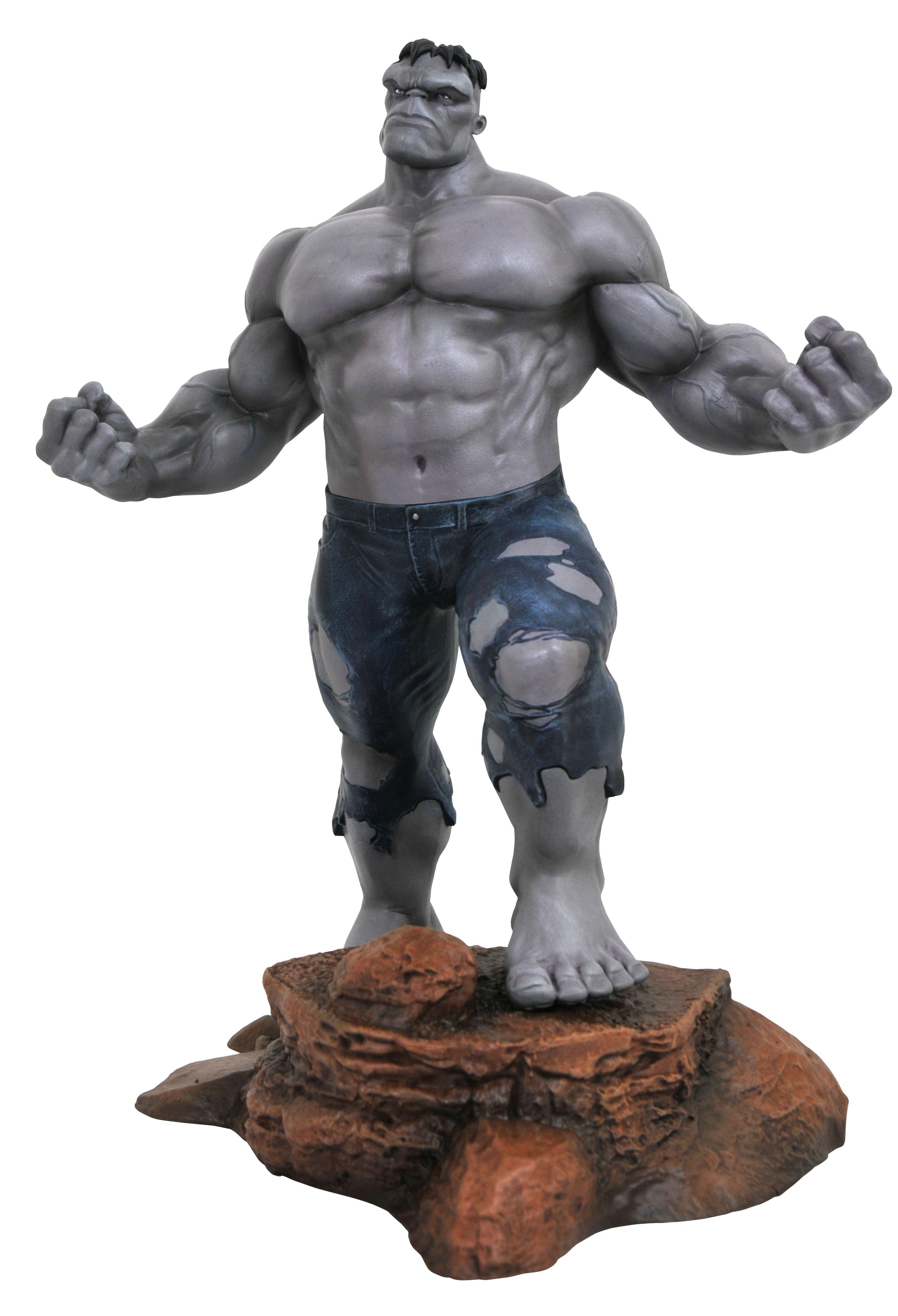 SDCC 2018 MARVEL GALLERY GREY HULK PVC STATUE

Now that's a Hulk of a different color! The Marvel Gallery line of PVC Dioramas returns to Comic-Con with a new variant that celebrates the multi-colored history of the Hulk. This new grey-skinned edition of Diamond Select Toys' hit Hulk PVC features an all-new head sculpt and captures the character in one of his fan-favorite looks. Measuring approximately 11 inches tall, this diorama comes packaged in a full color window box, and is limited to only 5,000 pieces! (SRP: $45.00)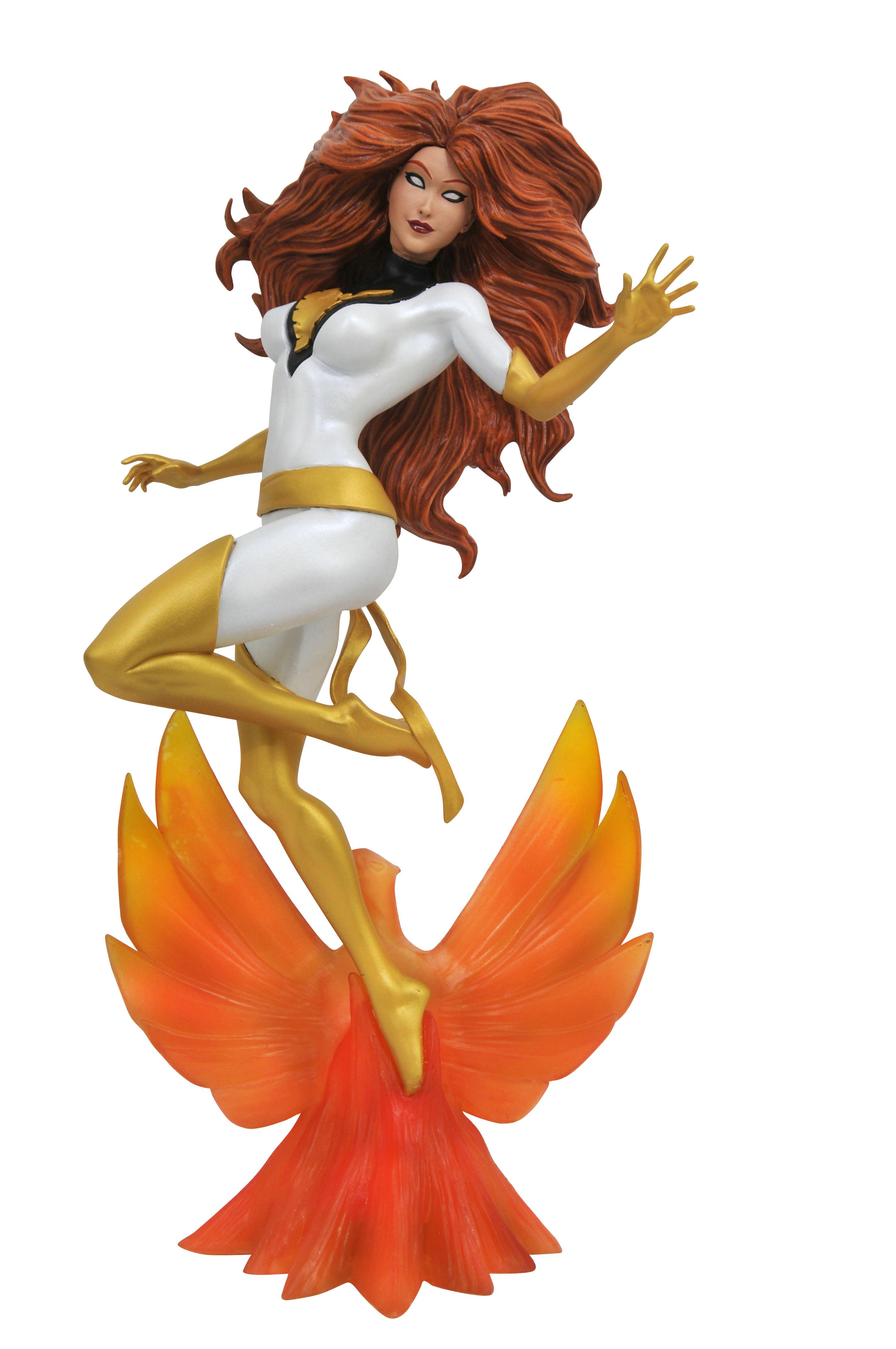 SDCC 2018 MARVEL GALLERY WHITE PHOENIX PVC STATUE


The Phoenix has returned! Sweeping down from the stratosphere to once again merge with its favorite host, the Phoenix Force has returned to Comic-Con in the form of the X-Man Jean Grey, but in an all-new look! This white-costumed edition of Jean Grey as Phoenix captures the powerful entity in a frequently fan-requested look, and measures approximately 10 inches tall. Limited to only 5,000 pieces, she comes packaged in a full color window box. (SRP: $45.00)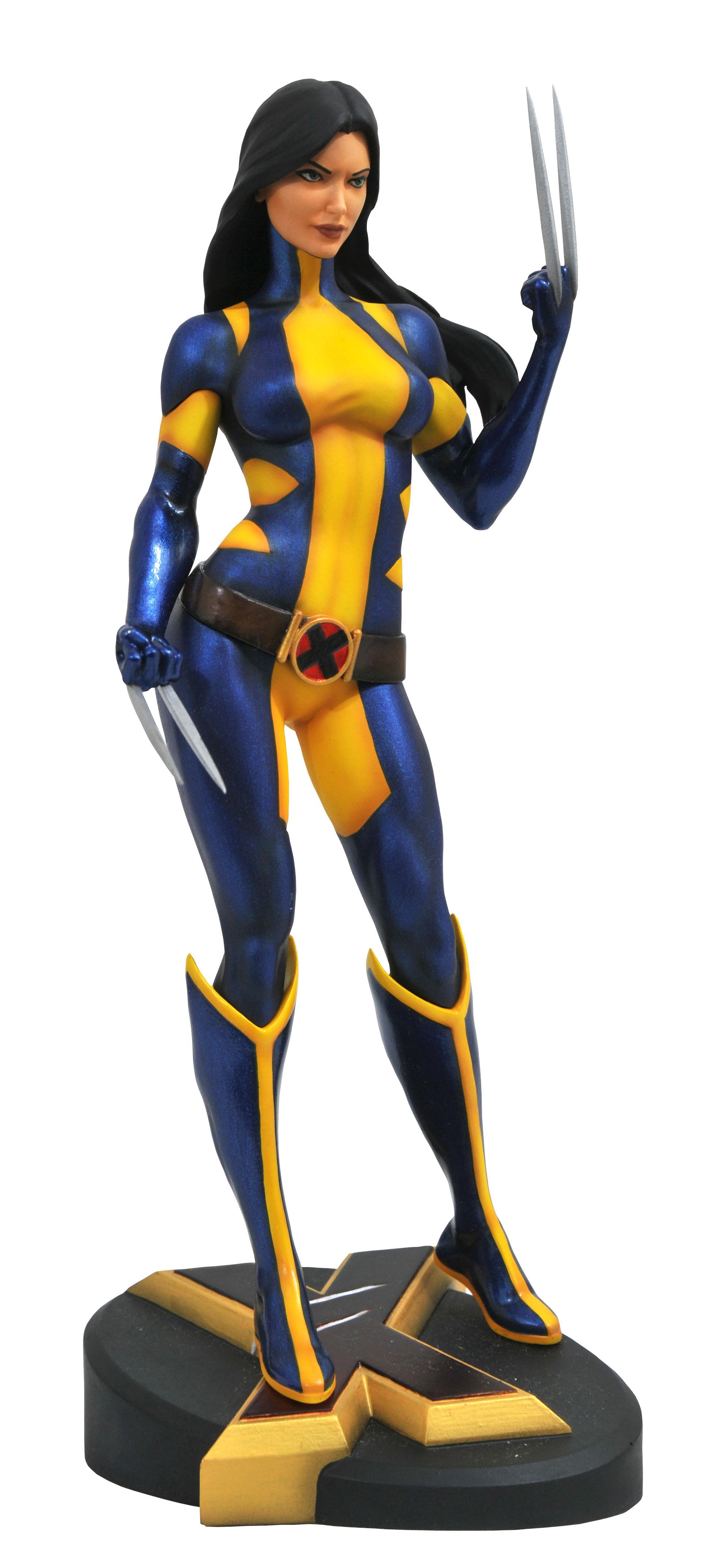 SDCC 2018 MARVEL GALLERY UNMASKED X-23 PVC STATUE


She's the best there is at what she does, and what she does isn't pretty - but she is! Laura Kinney, a.k.a. X-23, a.k.a. the all-new Wolverine, removes her mask in this Comic-Con-exclusive Marvel Gallery PVC Diorama. Striking a menacing pose that contrasts with her fetching facial features, Laura stands approximately 9 inches tall atop an X-logo base, and comes packaged in a full-color window box. Limited to only 4,000 pieces! (SRP: $45.00)
SDCC 2018 DC CLASSIC HARLEY GREEN & PURPLE VINYL FIG

Harley Quinn has been around for over 25 years and she is as crazy as ever! This Previews-exclusive variant of the 7-inch Classic Harley Quinn vinyl figure highlights her connection to The Joker by giving her classic jester costume a green-and-purple makeover. She playfully holds her signature mallet behind her back as a reminder that, when Harley is around, mayhem is always just moments away! Designed by Pedro Astudillo and Anders Ehrenborg, the figure is packaged inside a display-worthy window box. Limited to just 2,000 pieces worldwide! (SRP: $29.99)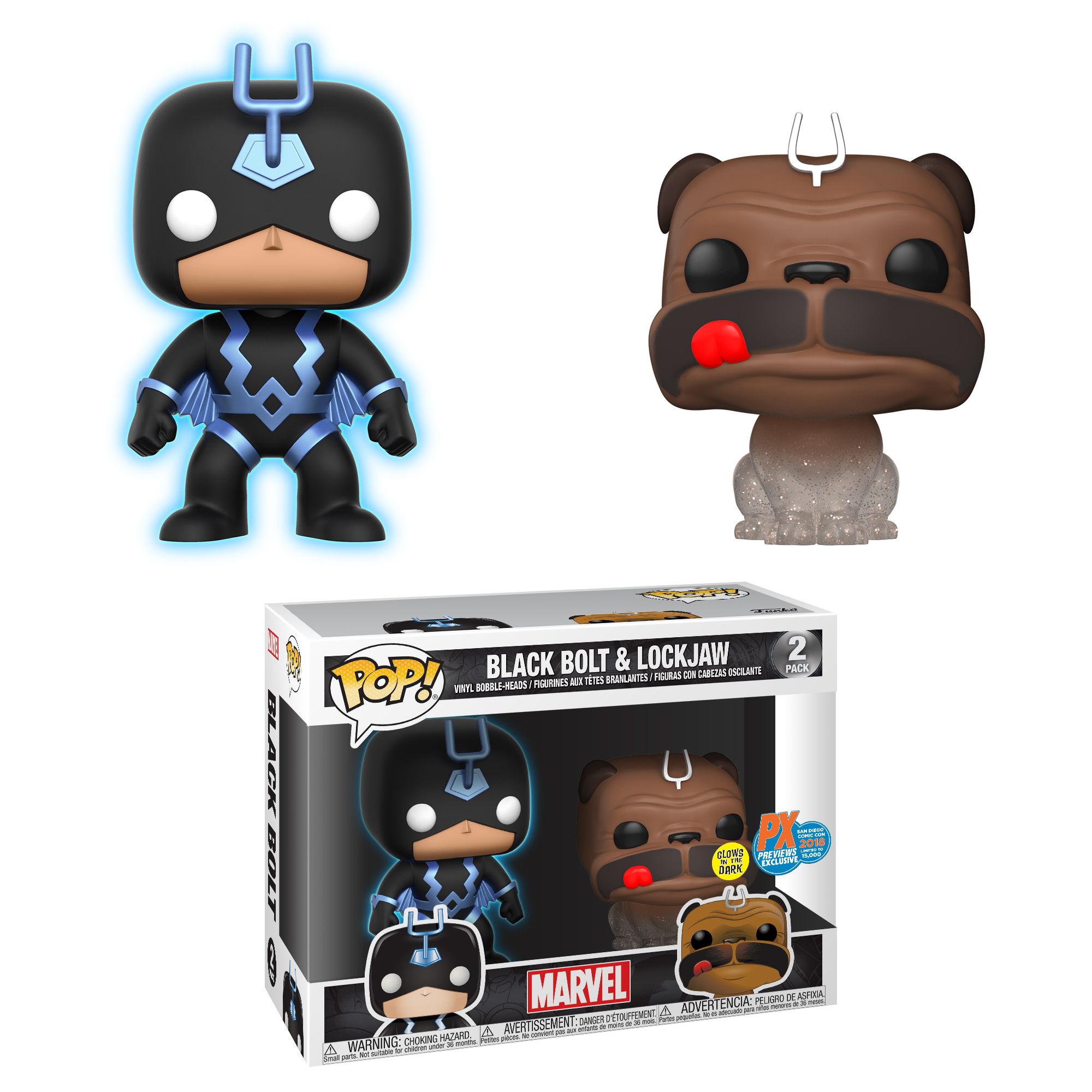 SDCC 2018 POP MARVEL TELEPORTING LOCKJAW & BLACK BOLT


Meet the ruler of the Inhumans, Black Bolt, and his teleporting canine sidekick, Lockjaw, stylized as a Marvel Pop! two-pack. The duo is being released as a 2018 San Diego Comic-Con exclusive, and the figures stand 3 3/4" tall with the vital inclusion of forehead antennas that help them control their powers. Black Bolt is glow in the dark for nocturnal adventures requiring illumination and Lockjaw is depicted mid-teleportation. Limited to just 15,000 pieces worldwide! (SRP: $25.00)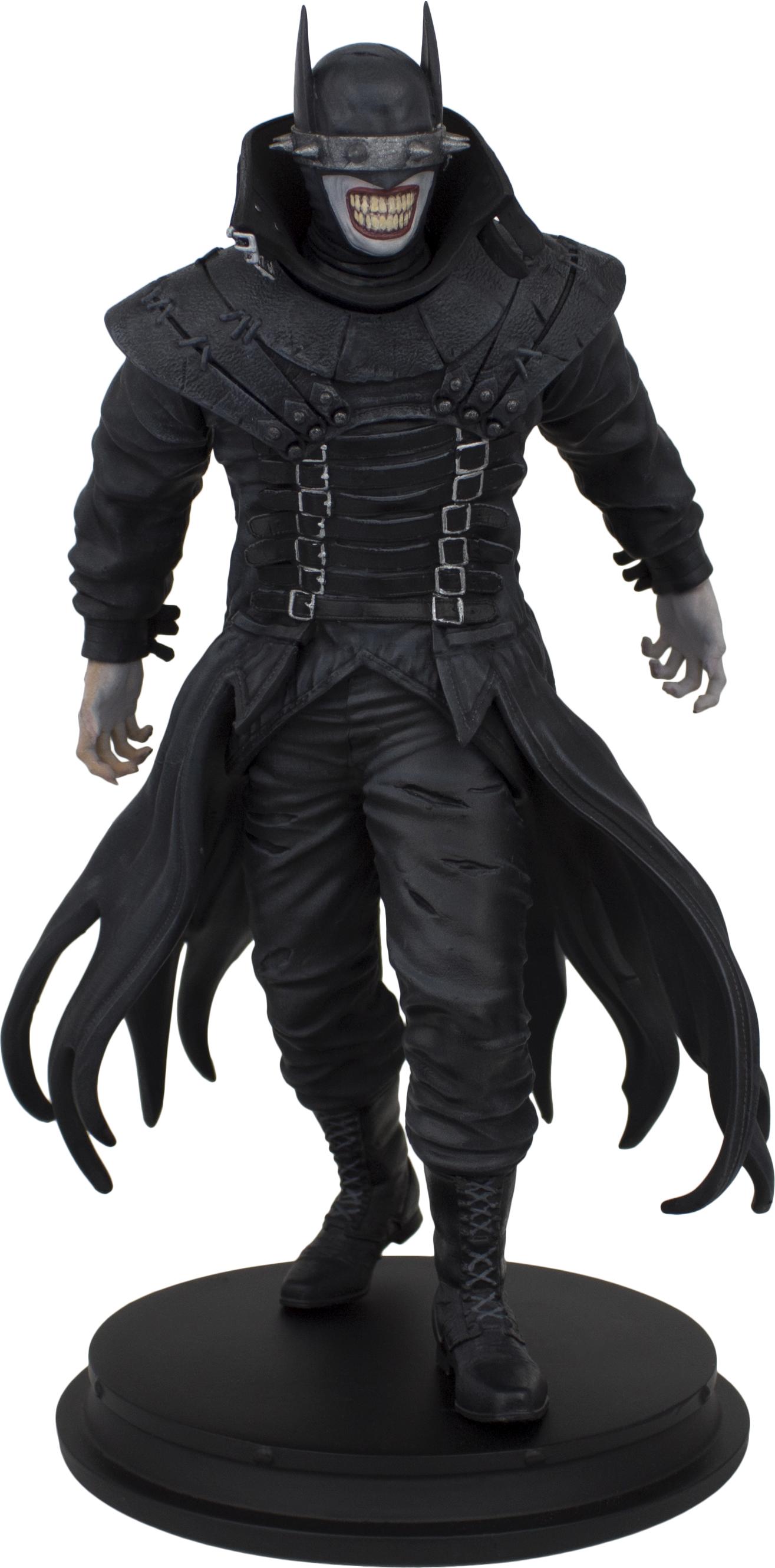 SDCC 2018 DC COMICS BATMAN WHO LAUGHS PX STATUE


From the popular Dark Nights Metal series comes this stunning statue of the "jokerized" batman from the Dark Multiverse, the Batman Who Laughs! Standing 8.1 inches tall, this prince of chaos is featured in his signature buckled outfit that's covered in small details to really bring this Batman to life. Each Previews Exclusive statue is hand painted with metallic details, individually numbered, and includes a Certificate of Authenticity. Limited to just 2,000 pieces worldwide! (SRP: $60.00)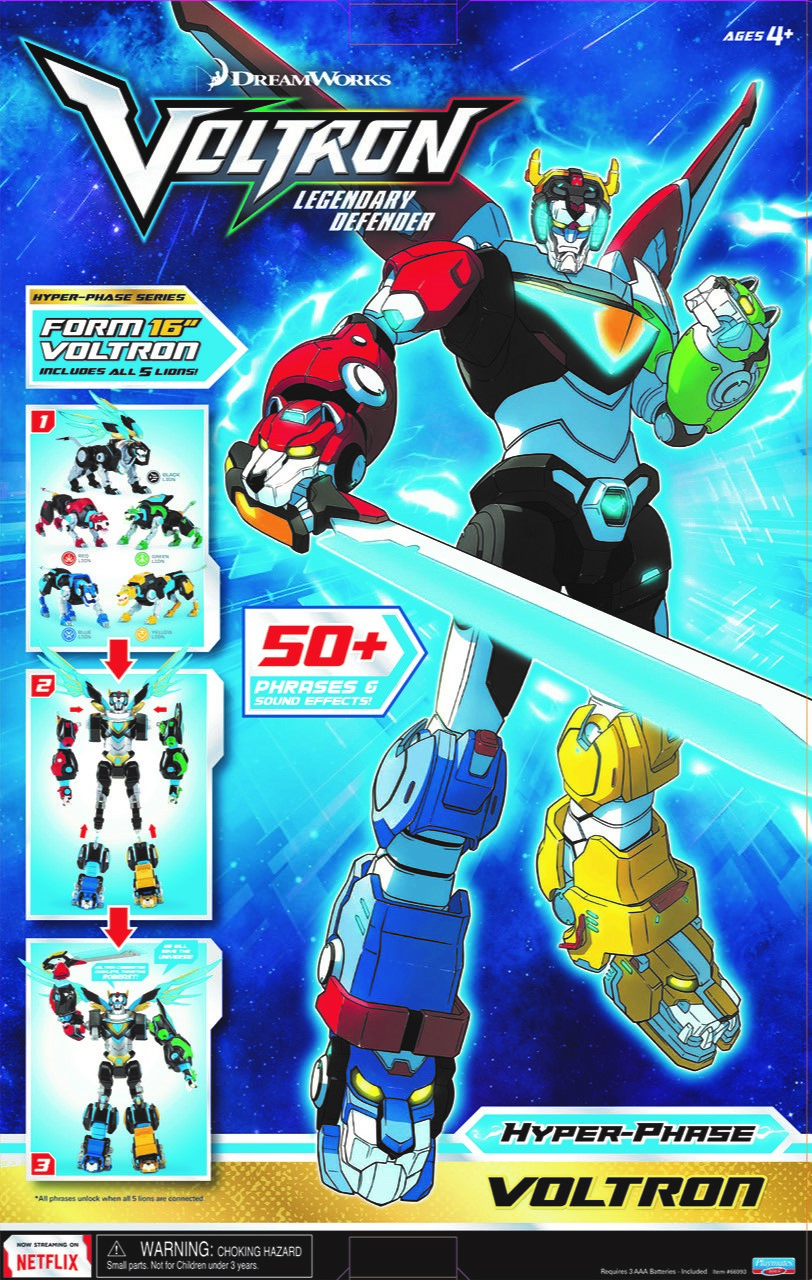 SDCC 2018 VOLTRON HYPERPHASE VOLTRON PX 5PC GIFT SET


Voltron was built to harness the mysterious Quintessence energy and establish peace and harmony throughout the universe! Face with the Galra's innumerable armies, the Voltron team taps into Princess Allura's unique connection to the Quintessence and imbues the Lions with this energy, upgrading their weapons systems and supercharging this robotic defender!
The legend comes alive when the Legendary Lions are combined to form the unbeatable defender of the universe, Voltron! These five powerful Lions transform and combine to form a towering 16" Voltron action figure with lights and over 50 phrases and sound effects from the DreamWorks ™ series Voltron legendary Defender.
Includes all new Quintessence enhanced projectile launchers!

Limited to just 3,000 pieces worldwide! (SRP: $129.99)