Publisher Market Shares: January 2019
Marvel Comics was the leading publisher in Retail Dollars and Units Shipped in January 2019, based on total sales of comics, graphic novels and magazines to comic book specialty stores, according to Diamond Comic Distributors.
PUBLISHER MARKET SHARES
Based on Total Unit Sales of Products Invoiced in January 2019
RETAIL MARKET SHARE
PUBLISHER
SHARE
MARVEL COMICS
39.24%
DC ENTERTAINMENT
29.70%
IMAGE COMICS
7.56%
DARK HORSE COMICS
3.95%
IDW PUBLISHING
3.65%
BOOM! STUDIOS
2.32%
DYNAMITE ENTERTAINMENT
2.13%
VIZ MEDIA
1.55%
TITAN COMICS
0.80%
ARCHIE COMICS
0.78%
ONI PRESS
0.66%
RANDOM HOUSE
0.60%
HACHETTE BOOK GROUP USA
0.46%
ZENESCOPE ENTERTAINMENT
0.43%
VALIANT ENTERTAINMENT
0.41%
ST. MARTINS PRESS
0.39%
AFTERSHOCK COMICS
0.38%
FANTAGRAPHICS BOOKS
0.37%
LION FORGE
0.34%
ACTION LAB ENTERTAINMENT
0.30%
OTHER NON-TOP 20
3.98%

UNIT MARKET SHARE
PUBLISHER
SHARE
MARVEL COMICS
41.29%
DC ENTERTAINMENT
33.39%
IMAGE COMICS
7.77%
IDW PUBLISHING
3.32%
DARK HORSE COMICS
2.97%
BOOM! STUDIOS
2.23%
DYNAMITE ENTERTAINMENT
1.83%
ARCHIE COMICS
0.77%
VIZ MEDIA
0.61%
TITAN COMICS
0.60%
ONI PRESS
0.55%
VALIANT ENTERTAINMENT
0.49%
ZENESCOPE ENTERTAINMENT
0.37%
AFTERSHOCK COMICS
0.36%
ACTION LAB ENTERTAINMENT
0.26%
ANTARCTIC PRESS
0.22%
LION FORGE
0.18%
ALTERNA COMICS
0.17%
AMERICAN MYTHOLOGY PRODUCTIONS
0.17%
RANDOM HOUSE
0.17%
OTHER NON-TOP 20
2.28%
COMPARATIVE SALES STATISTICS
Based on Total Unit Sales of Products Invoiced in January 2019
DOLLARS
UNITS
JANUARY 2019 VS. DECEMBER 2018
COMICS
11.93%
13.49%
GRAPHIC NOVELS
42.79%
40.93%
TOTAL COMICS/GN
19.47%
15.18%
TOYS
154.01%
234.27%
JANUARY 2019 VS. JANUARY 2018
COMICS
15.32%
5.03%
GRAPHIC NOVELS
11.98%
2.36%
TOTAL COMICS/GN
14.33%
4.82%
TOYS
34.53%
57.58%
NEW TITLES SHIPPED
Based on Total Unit Sales of Products Invoiced in January 2019
PUBLISHER
COMICS
SHIPPED
GRAPHIC NOVELS
SHIPPED
MAGAZINES
SHIPPED
TOTAL
SHIPPED
MARVEL COMICS
102
40
0
142
DC ENTERTAINMENT
87
31
0
118
IMAGE COMICS
57
10
0
67
IDW PUBLISHING
39
17
0
56
DARK HORSE COMICS
27
19
0
46
BOOM! STUDIOS
25
11
0
36
DYNAMITE ENTERTAINMENT
19
6
0
25
VIZ MEDIA
0
25
0
25
TITAN COMICS
10
9
0
19
ARCHIE COMICS
13
5
0
18
OTHER NON-TOP 10
136
186
37
359
TOTAL
515
359
37
911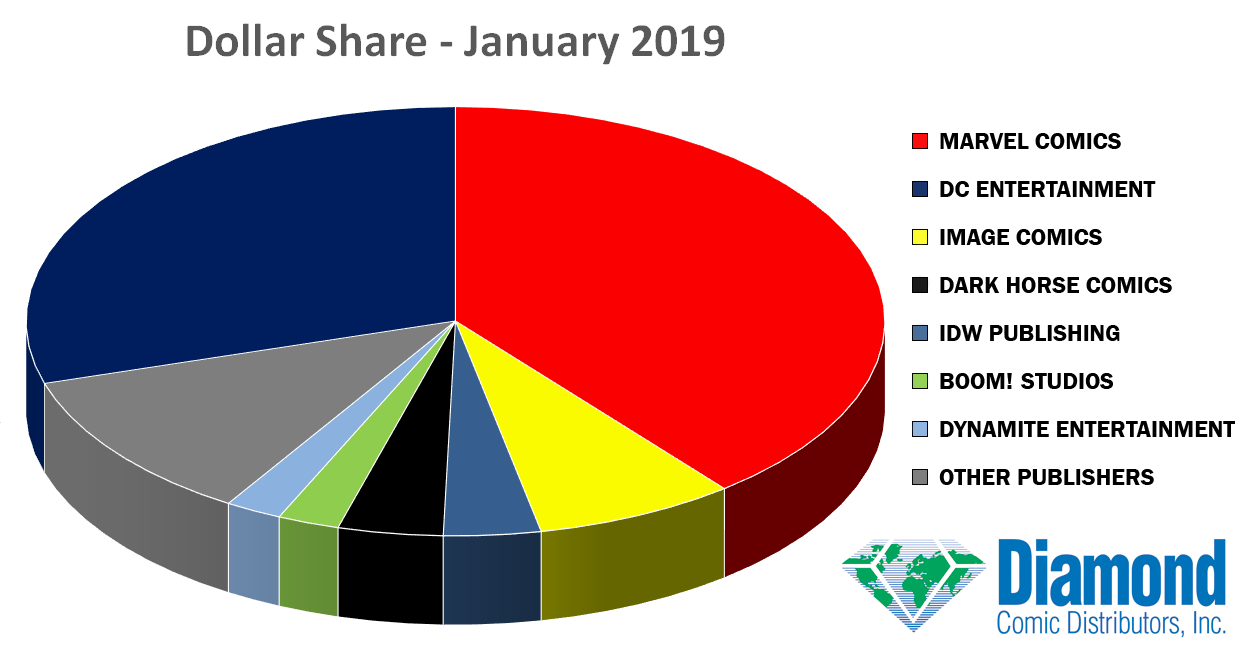 Dollar Market Share – January 2019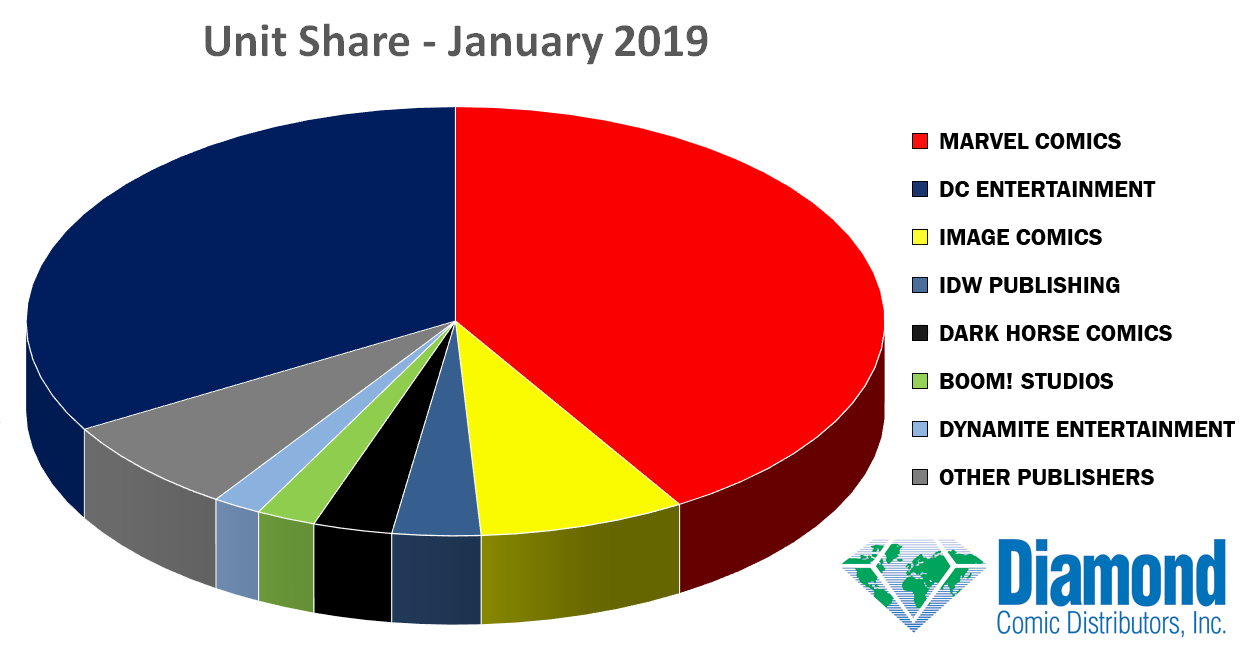 Unit Market Share – January 2019
How does Diamond calculate the charts? It all starts at the comic book shop.
Data for Diamond's sales charts — which includes the monthly market shares and all top product charts — are compiled by Diamond Comic Distributors from sales made to thousands of comic book specialty shops located in North America and around the world. Additional sales made to online merchants and other specialty retailers may be included as well.
Unit and dollar market shares are calculated based upon orders for comic books, graphic novels, and magazines invoiced and shipped to Diamond customers during any given month, which comprises pre-orders, advance reorders, and reorders, minus any copies that are received back from a title marked as returnable. Please note that comics marked with an asterisk (*) have had their reported quantities reduced due to retailer returnability, and thus may rank lower on the charts than their actual sales would reflect.
The New Titles Count Chart includes all titles that were invoiced by Diamond to retailers for the first time during the month and is not the official solicited title count for the month. Variant edition comic books and graphic novels at the same price point count as a single SKU. Variant edition comic books, lenticular covers, digital combo packs, and graphic novels at different price points count as separate SKUs for each edition.
***
ABOUT DIAMOND COMIC DISTRIBUTORS (DCD) — Diamond is at the nexus of comics and pop culture merchandise. Based in Baltimore, MD, DCD is the world's largest distributor of English-language comic books and pop-culture related merchandise, servicing thousands of specialty retailers worldwide. For more information, visit Diamond on the web at www.diamondcomics.com.
© 2018 Diamond Comic Distributors, Inc. All rights reserved.