Diamond Retailer Best Practices Awards: 2019
Fall 2019
Comicopia - Boston, MA
Manga is a major facet of our store, taking up eight full bookcases with 300 linear feet of space devoted to over 4000 different titles/volumes, garnering about a third of our sales. Last year we replaced two bookcases in the front of the store with three new ones, devoted to oversize manga and light novels. We've been dedicated to stocking manga since our opening in 1989, back when it was still being published primarily in single-issue format. When the industry experienced decline in 2010, we never lost our resolve to keep our stock, acknowledging that manga are comics and deserve attention as much as any other sequential media. We have never regretted this decision, as we have been able to supplement our in-store sales with anime conventions since 2003, where we are the largest manga vendor. In the store, we strive to stock as much of what is currently in print as possible, and only stock complete series (even all 91 volumes of One Piece!). Our philosophy is "all or nothing". If we decide to carry a series, we carry every single volume, because customers need to know that we'll likely have the particular volume of their series, when the mood strikes them to visit the store. We offer an incentive based on the number of different volumes purchased of the same series: 10% for 4+, 15% for 8+ and 20% for 12+, which encourages customers to stock up on their favorite series. Of course, we will special order any in print volume we don't carry.
Comicazi - Somerville, MA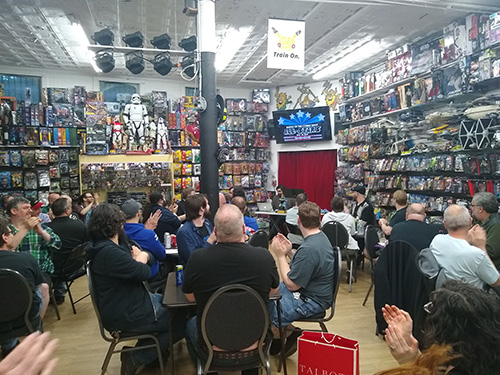 We do numerous charity fundraisers throughout the year to benefit our favorite nonprofit, Boston Partners in Education, which provides students in our city with focused, individualized, in-school volunteer support. From cookie baking competitions to yard sales to $1 donations at the register for the entire month of May, we strive to make fundraising engaging & entertaining. Our favorite event by far is our annual Comic Shop All-Stars Trivia Competition. Local comic shops, small press groups & others from around the state participate by forming a team & paying a table fee that is donated to BPA. We've raised thousands of dollars over the years. The highlight of the event is simply gathering together our peers & friends in the local comics industry for a night of fun, light-hearted competition & socializing. It's important that we maintain these bonds with other shops & organizations to nurture our community & keep lines of communication between us easy & open. It also keeps everyone on their toes when it comes to first appearance knowledge, pop culture references, & the confounding AUDIO ROUND (this year the theme was villains & monsters sounds)! The winning team gets bragging rights & a trophy to keep for the year. We're adding new teams from new shops every year, which only shows that the relationships we make in this community strengthens the industry. We're always growing, always learning, & we're so glad we get to do it with all of our friends & benefit a cause that nurtures the next generation.
Pulp 716 - Buffalo/Niagara Falls, NY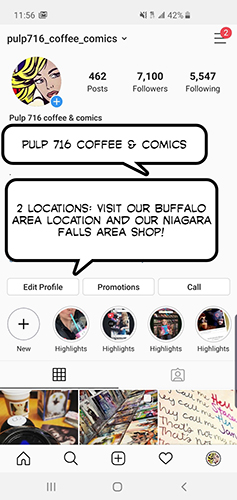 Instagram has been a huge success for us. All the books we post show a drastic increase in sales. We have fun and let the personalities of our staff shine.
Promotions: We do a lot of promotions with publishers and creators. One of our favorites was creating a drink to go with Stephanie Phillips' new book from Aftershock, and another was the Man-Eaters drink with the cat scratch on the cup. We had a blast and the Instagram promotions helped us sell hundreds of copies and drinks.
Advance orders: We plan in advance a lot of the books we will feature on Instagram. We learned pretty quick that if we post a book we better have a healthy stack to back it up. Usually within a half hour of a post someone will walk through the door and mutter "Um, yeah, I'm looking for the book I saw on Instagram".
Weekly events: We feature a different artist in our shop every Saturday night. Comic artists, writers, Special FX workers, Makeup artists, Glassblowers, painters. If its art, we will host them. Promotional work on Instagram brings people in for the events. A simple post a few days before the event, then one the day of, brings an extra 50-100 people per Saturday that otherwise wouldn't have come.

Torpedo Comics - Las Vegas, NV
At Torpedo Comics we have made it a point to carry items that most people do not get the chance to see in person, that includes statues and Hot Toys.
We keep a large stock of statues ranging from high-high dollar Sideshow, Prime 1, and Xm to the more affordable Diamond Select statues. As well as unique and rare custom statues that some times has a print run of less than 20 pieces. We also make an effort to keep newer statues in rotation as well as buying collections to keep older statues and Hot Toys available.
Hot Toys have been a great new addition to our store's stock of collectibles. Which started because of a collection of over 100 Hot Toys we bought from a local collector, and has now become a standard presence in our store. Our selection of in stock Hot Toys has made our store a Must Stop destination for collectors from locals and as far away as Russia who have trouble finding these items in person and who would normally have to order from the online secondary market.
Our statue displays are made up of custom designed with bottom lit housings that sit on our graphic novel bookcases, and standing display cases that house over 100 pieces. The demand for statues and Hot Toys has pushed us to expand and commission bigger and better display cases that will arrive in our store soon.
Summer 2019
Space Cadets Collection Collection - Oak Ridge North, TX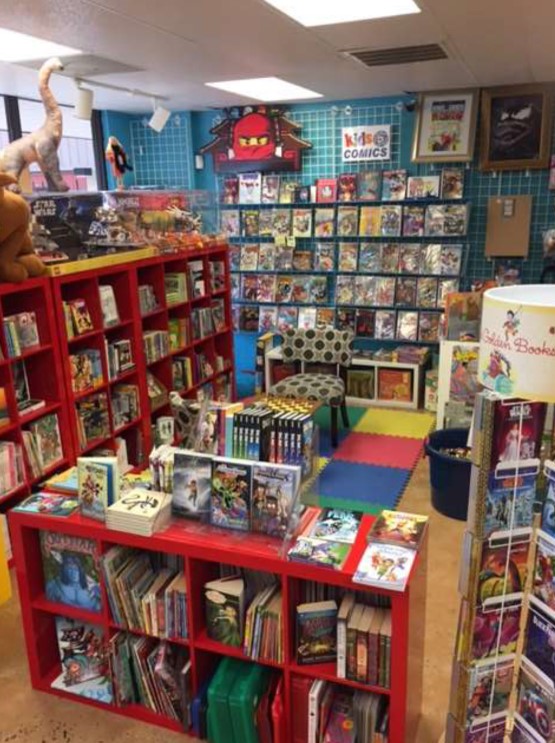 Space Cadets Collection Collection has a huge 14' x 10' dedicated kids area. It houses 60 front facing all ages comic books, a huge assortment of kids manga, books and graphic novels as well as a chess/ checker board and items for kids to play with while their parents shop (Legos, tinker toys, Lincoln logs). We allow kids to sit and read freely in this area (which always turn into sales, as kids love to own books that they read many times over). We also have a glass case here where we sell Lego minifigures and small loose sets, which is very popular. We have soft foam squares on the floor that are comfortable to sit on and off in the corner below the Ninjago sign, there is a soft fur pillow for kids to sit and read if they need a quiet place. This section has seen a huge growth in sales since we have expanded it and we often see cute teenage couples sitting and having a chess date here.
Dragon's Lair - Austin, TX
Dragon's Lair Comics & Fantasy® Austin has been hosting our Free Comic Book Day event since its beginning, and it's grown into a huge store-wide family-friendly event for all ages. This year we had dozens of volunteers and cosplayers, a little over 1100 guests through the door, and several thousand comics given away.
FCBD is always an exciting all-hands on deck event for our staff here, and everyone gets a role during one of our biggest days of the year.
From snow cones, to checkout, to comic re-stock, and line management, everyone plays a part! Outside we had a bouncy castle for kids and free snow cones for the families while they wait, with fans, chairs, and canopy tents for guests to stay cool in the Texas heat.
Our volunteers and cosplayers help throughout the day. Many of them are our own comic subscribers and frequent shoppers who love to come dressed as their favorite comic super heroes and talk with fellow comic fans in line while they wait. This year our line started in the wee-hours of the morning and wrapped around the building before we even opened the doors.
Once inside, guests may take one of every title we have available until they run out!
This year our FCBD celebration hosted a signing by Bill Williams, author of the FCBD Punchline comic. Inside we also had activities such as face painting with the Avengers logo, green dragon, and space galaxy being the most popular designs, Star Wars Trivia for Star Wars Day, a local artist with prints of comic, cartoon, anime, and movie characters, and representatives from the Greater Austin Comic Con, and CASA Super Hero Run.
Free Comic Book Day is always one of our biggest community events of the year, with lots of buildup and anticipation. It's a tradition for many local families, comic enthusiasts, and even a local comic creator or two to visit us each year, and we're always excited to have such a successful event in our store!

Packrat Comics - Hilliard, OH
It was a cold January afternoon and we just finished doing pulls at Packrat. It was that time of the year where we go through and remove any of the delinquent customers. While every store has their own risk tolerance for these types of accounts, we tend to make sure we do a quarterly cleaning. After this particular deletion, and seeing so many online discussions about how digital comics would hurt the retailer, we thought we'd offer a different perspective. It's those pull customers who suddenly become ghosts in your shop, leaving you with comics you ordered just for them. We thought we would simply share the idea that having the retailer tie up money in product your forgot hurts the retailer more than buying a digital version. We also planned on promoting the post as an ad on Facebook to get our locals into the shop and pick up more comics. We weren't prepared for what happened next. Thousands of comments, likes, shares and articles were written from that simple post. We quickly removed the boost option from the post as it wasn't necessary. We even had a podcaster come in from out of town to talk about it. We heard from retailers around the world that shared the post and had the same positive feedback - delinquent customers picking up their comics or lost customers returning to just buy a few things.
Comic Quest - Lake Forest, CA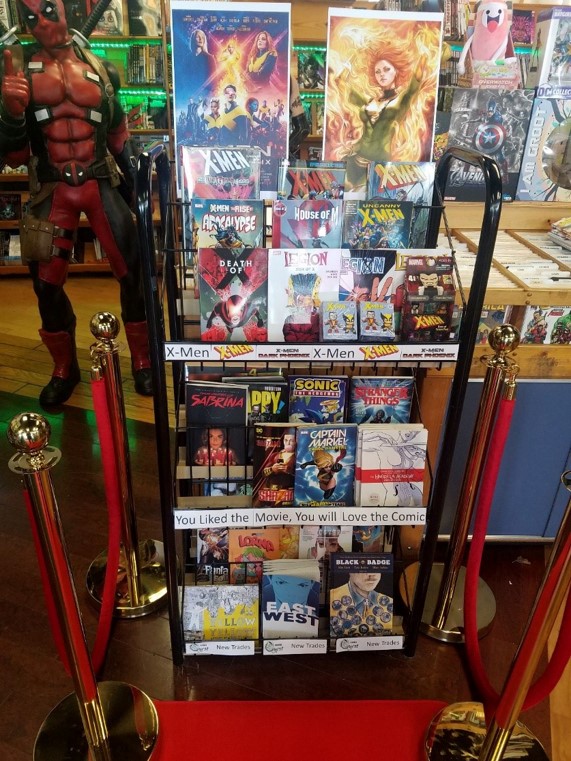 We create a rotating display of movie related graphic novels, comics and related toys. We display material for each upcoming movie. Examples: Shazam, Captain Marvel, Pokemon, Avengers, Dark Phoenix, Spider-man, etc.
To help create fun & pizazz, we added a red carpet that runs from the front entrance to the display. As well as theater style gold poles and velvet ropes. These add to the theme and frame the entire display.
To connect the movie to the comics, we include in each display a poster from the actual movie, and a poster of a similar comic cover. We incorporate logos from both the movie and from the comics.
While the top section promotes the movie material, the lower section includes other hot media tie-ins, to make it easier for new customers to find familiar products like Umbrella Academy, Sabrina, Happy, etc.
An artist on our staff paints our outside windows with movie related characters. Each window is created before each movie to add to the promotional timing and anticipation.
To add to the display we used a rotating lighting unit. The DJ style lightshow helped simulate a movie premiere style.
Spring 2019

Escapist Comics - Berkeley, CA
Graphic novels are our specialty. More than two thirds of our store is dedicated to them. Our biggest sections are the superhero collections and graphic novels (arranged alphabetically by superhero or team) and our literature section of non-superhero books (arranged by author last name) with titles ranging from Hellboy through Transmetropolitan through Anders Nilson coming from publishers big and small, from Marvel to Dark Horse to Nobrow. We also stock manga, omnibus collections, archive editions, art books, comic strip collections, how-to books, books about comics, media related titles, artist editions, independent presses, and probably a few things that will still surprise me from time to time. The all-ages section contains many of the popular series titles like Bone and Amulet (of course), graphic novels for little kids through teens, superhero titles, non-fiction, early readers, and more. We're always looking to order something different and interesting. We believe there is a comic for just about everyone in our store. It is not unusual for a customer to spend an hour here coming to the register with a smile and a pile of books. That's part of the store experience, something you won't get online. Occasionally other stores in our area send people to us when they don't have a title knowing how much we have. Our knowledgeable staff is always able to steer somebody toward a book that is just right for them. We have displays to help as well. One of the popular tables in the store is the one that features graphic novels for girls of all ages. We've been called "the graphic novel store." We're not perfect and there can be holes in the stock, but it never stops being a pleasure hearing somebody say, "I can't believe you have this book!"
The Dragon - Guelph, Ont., Canada
Jenn Haines, owner of The Dragon has a Bachelor of Education and 10 years of teaching experience. She has utilized this training and experience to develop comprehensive services for schools:
free consultations with librarians to provide books that will meet the needs of the school community and budget; we provide 25% off on school and library purchases
workshops for students on a variety of topics, including the history of comics, and how to analyse comics; workshops are tailored to the age group involved
workshops for teachers on graphic novels they can use in the classroom, how to analyse those graphic novels, and the types of evaluations they can use to assess student learning
in-school book fairs, with 10% of sales returned to the school in the form of books
The Dragon sends out a quarterly newsletter to teachers and librarians to keep them up to date on new releases and must-haves for the classroom.
Every June, The Dragon runs "Comics for Excellence", providing a free comic to students for every E in their learning skills on their report card. This rewards students for their efforts in the classroom beyond academic achievement.
Packrat Comics - Hilliard, OH
Packrat Comics wanted to create a commercial that highlighted our store as a destination that was fun, inviting and a place for everyone. We decided to air the spot during the CW shows, Supergirl, Arrow and Flash and create something that would make the viewer stop and take notice. By incorporating the characters in the commercial, our goal was to get people to pay attention during the commercial break or stop while they watched it from their DVR. The ROI was immediate and our goal was accomplished.

Treasure Chest Comics - Stafford, VA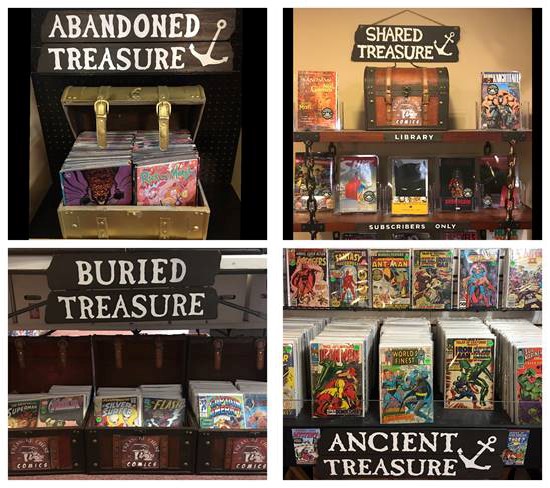 To keep in line with our store name we have unique hand-crafted/ Pirate themed signs to showcase our products. The new comic section can easily be found under the signage "New Treasure". Comics that are 1 week old are under the wooden plank labeled "Last week's Treasure". When it comes to Hardcover and paperback books that were once the talk of the industry but have since disappeared you can find those under the sign "Hidden Gems". If you look under the tables you will find treasure chests full of good reads with the sign "Buried Treasure" above them. Our old back issues are called "Ancient Treasure". Our one of a kind Library section has the signage "Shared Treasure". Comics held for Subscribers that we had to cancel are now discounted and found in the golden treasure chest labeled "Abandoned treasure" . The rest room is appropriately named The "Poop Deck"