Diamond Splits Invoicing of Free Comic Book Day Books to Before, After the Event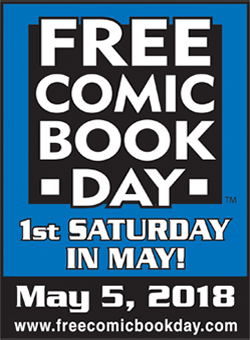 (Baltimore, MD) — (March 19, 2018) — To ease the burden of a larger invoice for Free Comic Book Day titles, Diamond Comic Distributors has announced that it will bill participating U.S. and Canadian retailers on two separate invoices.
"Many retailers have requested in the past to delay billing for Free Comic Book Day books due to the large cost involved with that week's invoice," said Diamond VP-Sales and Marketing Roger Fletcher. "We're happy that we can oblige, and hopefully splitting the invoice cost to before and after the event will ease the burden on retailers, so they can concentrate on having an exciting and successful Free Comic Book Day Event."
After participating retailers receive their Free Comic Book Day shipments between April 11 and April 20, they will be billed via price adjustments once before and once after Free Comic Book Day. U.S. and Canadian accounts will receive an invoice for the gold sponsor titles before the event, on April 25, and an invoice for their orders of silver sponsor titles after the event, on May 9.
***
ABOUT DIAMOND COMIC DISTRIBUTORS (DCD)—Diamond is at the nexus of comics and pop culture. Based in Hunt Valley, MD, DCD is the world's largest distributor of English-language comic books, graphic novels, and related pop-culture merchandise, serving thousands of retailers worldwide. For more information, visit Diamond on the web at www.diamondcomics.com.
© 2018 Diamond Comic Distributors, Inc. All rights reserved. Diamond, the Diamond logo, Diamond Books logo, and PREVIEWS are either registered trademarks or trademarks of Diamond Comic Distributors in theUnited States and/or other countries. All other trademarks are the property of their respective copyright owners.