Behind the Counter is dedicated to giving you tips, tricks and tools of the trade for making your shop the best it can be with how-to's, round-ups, interviews and much more. You won't want to miss these helpful feature articles in our Retail Beat section.

April's topic: Free Comic Book Day.
---
On Saturday, May 4, specialty market retailers around the world will open their doors for Free Comic Book Day 2013, and you can make the most of the little time left before the event by making sure your store, staff and potential customers are fully prepared!

Here are a few tips you can use to make Free Comic Book Day 2013 a more positive experience for fans coming into your store for the first time (and your regulars, too):
• Double-check that you've set up your store to display and promote your FCBD books in the best possible way. You should also review what's on your shelves and racks, replacing any stale merchandise with more recent items reflecting current trends in comics and pop culture, such as material spotlighting Green Lantern, Thor, and Captain America, all of which remain prominent in consumers' thoughts as their respective movie debuts near.

• Make reminder calls to local media for coverage of the event, especially if you only sent an email or Press Release. Keeping in contact with your media connections is crucial all year long, but especially on Free Comic Book Day. If you plan on having costumed characters in or outside your store, have a friend anonymously "tip" the local TV station; if it's a slow news day, your store may wind up on the 6:00 news! To help you get the coverage your event deserves, Diamond has prepared a FCBD press release, event calendar listing request to send to local newspapers, tips on how to get FCBD coverage and other related tools for you, all available from now from the Diamond Tools page.

• You'll be making first impressions with many new and hopefully returning customers on this day, so remind your staff to be helpful, knowledgeable, professional and friendly. Be sure that each staff member understands his/her assigned duty, whether it's counting heads as customers enter, answering customer questions, or working the register.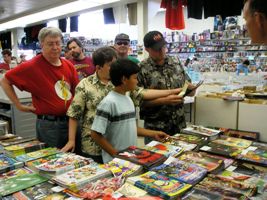 • If your store does not have a "uniform," be sure your staff is clearly identifiable to the public, in case someone has a question or concern. You and your employees can use these interactions to establish that your store is one with excellent customer service, making an impression that could earn the store new regulars. Name tags, matching FCBD Commemorative T-Shirts with art by Jim Cheung (unless you're giving those away to customers) or even colorful hats are all ways to make the staff stand out from the crowd.

• Also in the area of first impressions: take time to clean your store thoroughly before the big day. Wax the floors, shampoo the rugs, clean your showcase and window glass, dust the counters and replace any flickering or burned-out light bulbs to ensure that your store is bright and welcoming. Don't forget to clean the bathroom! Word of mouth advertising can work against you, too, so don't give first-timers to your store a reason to grumble.


• Finally, a timeless tip from FCBD originator Joe Field: On the big day, consider starting your FCBD giveaway an hour after you open the store to allow a big, impressive line to gather outside – and to give you one more chance to alert the local media!

After the event, we invite you to share your FCBD13 success stories with fans and your fellow retailers by tweeting to @Freecomicbook on Twitter or posting something on the FCBD Facebook page. You can also upload your photos, videos and other media to the event's official Flickr page.

Storeowners and managers wanting to share with Diamond additional thoughts, photographs, and suggestions for improving Free Comic Book Day can submit them to Diamond Daily Managing Editor Jennifer Clary at cjen@diamondcomics.com, or by contacting your Diamond Customer Service Representative.

Free Comic Book Day only rolls around once a year – are you ready?