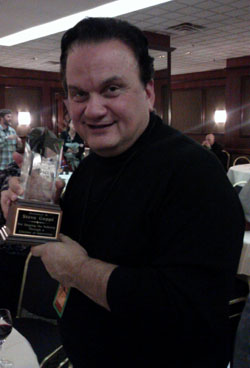 Diamond Comic Distributors founder and president Steve Geppi was the recipient of the Shel Dorf Legacy Award at the 2013 Shel Dorf Awards ceremony, held October 25 at the Detroit Fanfare convention in Dearborn, MI.
"I'm honored," Geppi said in his acceptance speech, "Especially knowing Stan Lee received one of these awards… Now there's one less thing he has on me." Geppi went on to say how comics are no longer a niche product, but are a central part of popular culture, "responsible for the biggest hits in Hollywood." He ended by thanking the comics retailers, explaining "You're our life blood… we couldn't do this without you." His award was presented by Jill Smithers, board member of the Shel Dorf Awards.
Named for the man who helped launch what is considered to be the first true comic convention – the Detroit Triple Fan Fare – in 1965, the Shel Dorf Awards are dedicated to recognizing the industry's best and brightest talents, and are nominated and voted on by fans. The Legacy Award – along with the Jerry Bails Award and the Spirit Award – are determined by the Detroit Fanfare Board of Directors.
The award ceremony was hosted by Clerks star Brian O'Halloran, who called Detroit Fanfare "The most comic-friendly convention" he'd attended.
The complete list of the Shel Dorf Award winners for 2013:
Editor of the Year: Steve Wacker

Cover Artist of the Year: Alex Ross

Colorist of the Year: Fiona Staples

Letterer of the Year: Chris Eliopoulos

Web Comic of the Year: Battlepug

Syndicated Print Strip of the Year: Beardo

Comic Blogger of the Year: Decapitated Dan

Comic to Multi-Media Adaptation of the Year: The Walking Dead

Self-Published Comic of the Year: Touching Evil by Dan Dougherty

Kids Comic of the Year: Adventure Time (BOOM! Studios/kaboom!)

Mini Series of the Year: Five Ghosts (Image Comics)

Inker of the Year: Bill Sienkiewicz

Penciler of the Year: Fiona Staples

Original Graphic Novel of the Year: District Comics: An Unconventional History of Washington DC

Writer of the Year: Brian K. Vaughan

Continuing Series of the Year: The Walking Dead

Spirit Award for Independent Comics: Jeff Smith

Jerry Bails Award: Craig Yoe

Shel Dorf Legacy Award: Steve Geppi