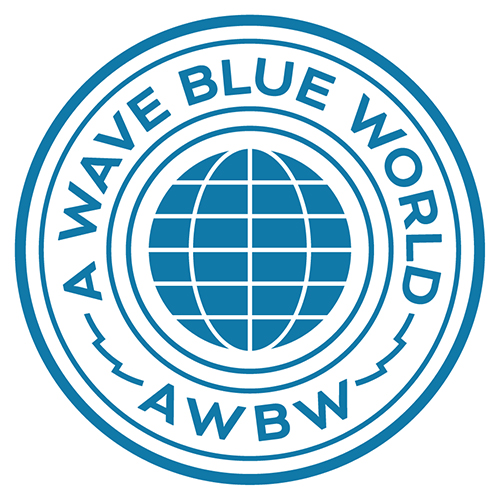 Diamond Comic Distributors, the world's largest distributor of English-language comic books, graphic novels, and pop culture merchandise, is pleased to announce that it has signed a distribution agreement with A Wave Blue World to exclusively distribute their products to comic book specialty markets worldwide. Diamond was also awarded the rights to exclusively distribute A Wave Blue World's new releases to the North American book market under the banner of its sister company, Diamond Book Distributors.
A Wave Blue World is an independent publisher of high-quality graphic novels, anthologies and art books with a focus on originality and cultural relevance. The company connects people through storytelling and provides a platform for a multitude of creative voices. Founded by Tyler and Wendy Chin-Tanner – and featuring industry veterans like Lisa Y. Wu and Joseph Illidge – A Wave Blue World aims to use comics as a medium for change, to imagine a better world, and to build a brighter future.
"New readers are discovering comics through the book market and our titles are poised to meet the needs of this growth. But we'll still fit right in at your local comic shop," said A Wave Blue World President and Co-Publisher Tyler Chin-Tanner. "This is why Diamond Book Distributors is the perfect choice for us."
"We're ready to dive into the book market with exciting new projects in Middle Grade and YA as well as books and anthologies that marry literary and comics talent," added A Wave Blue World Executive Director and Co-Publisher Wendy Chin-Tanner.
"A Wave Blue World is truly a new breed of comic book publisher that believes in the sustainability of the comic book industry. The publisher's ideals and stories reflect the values of the current market and willingness to adapt to their needs," said A Wave Blue World VP, Sales and Marketing Lisa Y. Wu. "We look forward to readers discovering our stories in comic shops and bookstores."

"It's a perfect time for our stories to be available in bookstores!" said A Wave Blue World Editorial Director Joseph Illidge. "In addition to our backlist, the new titles we're developing for A Wave Blue World's future highlight the creative ideas and talented writers and artists ready to grow the audience and industry of graphic novels."
A Wave Blue World boasts a large library of existing work leaning heavily on social commentary and political perspective. American Terrorist, written by Tyler and Wendy Chin-Tanner with art from Andy MacDonald, Matt Wilson and Michael Wiggam, is a New York Times featured story that explores what happens when the American government wages war against its own people and a band of fugitives with nothing left to lose use social media to galvanize the public and reclaim their country. All We Ever Wanted is a New York Times featured anthology filled with stories that present a brighter vision of the future, meant to inspire hope and restore belief in a better world, featuring work from the comic book industry's top talent. Mezo, written by Tyler Chin-Tanner with art by Josh Zingerman, Val Rodrigues and Doug Garbark and letters by Thomas Mauer, is a Mesoamerican-inspired Game of Thrones-style epic centering on a female protagonist determined to unite a number of tribes against a tyrannical emperor.
"We are excited to begin a partnership with A Wave Blue World and foresee great market potential for their books," said Diamond Vice President of Purchasing, Tim Lenaghan. "Their continued effort to provide top-quality products that are both relevant and relatable is an asset we value, and we're greatly looking forward to working with them to promote and sell their line of books."
***
ABOUT DIAMOND COMIC DISTRIBUTORS (DCD)—Diamond is at the nexus of comics and pop culture. Based in Hunt Valley, MD, DCD is the world's largest distributor of English-language comic books, graphic novels, and related pop-culture merchandise, serving thousands of retailers worldwide. For more information, visit Diamond on the web at www.diamondcomics.com.
ABOUT DIAMOND BOOK DISTRIBUTORS — Diamond Book Distributors (DBD) is a division of Diamond Comic Distributors, Inc., and is dedicated to making a wide selection of its graphic novels and other pop-culture merchandise available to bookstores, libraries, schools, mass merchants and more worldwide. Based in Hunt Valley, MD, our team of professionals is committed to helping DBD's client publishers tell their stories, grow their businesses and reach new customers. We work to provide insight at every stage of the publishing process—from initial concept, to marketing, sales and distribution.
DBD is the home to several world class publishers, including Image Comics, publisher of The Walking Dead, Saga, Monstress, and Spawn; Dynamite Entertainment, publisher of James Bond, Red Sonja, and Vampirella; Valiant Entertainment, publisher of Bloodshot, Ninjak, and X-O Manowar; as well as Gemstone Publishing, Lion Forge Entertainment, Paizo Publishing, and others.
---
© 2019 Diamond Comic Distributors, Inc. All rights reserved. Diamond, the Diamond logo, Diamond Books logo, and PREVIEWS are either registered trademarks or trademarks of Diamond Comic Distributors in the United States and/or other countries. All other trademarks are the property of their respective copyright owners.