(BALTIMORE, MD) — (October 7, 2011) — DC Comics' Batman #1, written by Scott Snyder (American Vampire) and illustrated by Greg Capullo (Spawn), was the best-selling comic book in total units for September, according to information provided by Diamond Comic Distributors, the world's largest distributor of comics, graphic novels, and pop culture merchandise. Additionally, DC Comics' Action Comics #1 from Grant Morrison (Batman Incorporated, All-Star Superman) and Rags Morales (Identity Crisis) was the month's top-selling comic book in retail dollars.
Thanks to strong sales on DC Comics: The New 52, DC Entertainment was September's leading publisher in overall sales, taking 35.74% of the market in dollars and 43.04% of the market in units sold for the month. Marvel Comics was second in both retail dollars and units sold in September.
Overall comics sales for the month of September improved over August by 10%. Combined sales of comics and graphic novels for the third quarter increased by nearly 11% over the second quarter, and by 3.5% over the third quarter of 2010.
New publisher Legendary Comics teamed with award-winning creator Frank Miller to publish Holy Terror, the long-awaited hardcover graphic novel from Miller that pitted a city's vigilante protector against the forces of terrorism and resulted in giving the publisher September's best-selling graphic novel.
DC Comics' biweekly event Brightest Day re-established many of the heroes of the DC Universe in the wake of Blackest Night, and DC Direct's Brightest Day Series 3 Action Figures gave fans detailed figures of characters such as Hawk and Dove and gave the manufacturer the best-selling Toy product to specialty retailers in September.
The Man of Steel rockets from Krypton to join many gamers' HeroClix campaigns with September's DC HeroClix: Superman Booster Bricks from WizKids/NECA, the best-selling Game product to specialty retailers for the month.
TOP COMIC BOOK PUBLISHERS
PUBLISHER
RETAIL
MARKET
SHARE
UNIT
MARKET
SHARE
DC COMICS
35.74%
43.04%
MARVEL COMICS
35.37%
37.88%
DARK HORSE COMICS
4.76%
3.51%
IDW PUBLISHING
4.13%
3.10%
IMAGE COMICS
4.08%
3.29%
DYNAMITE ENTERTAINMENT
3.07%
3.02%
BOOM! STUDIOS
1.39%
0.94%
RANDOM HOUSE
0.99%
0.26%
EAGLEMOSS PUBLICATIONS
0.98%
0.22%
LEGENDARY COMICS
0.97%
0.12%
OTHER NON-TOP 10
8.53%
4.63%
COMPARATIVE SALES STATISTICS
 
DOLLARS
UNITS
SEPTEMBER 2011 VS. AUGUST 2011
COMICS
9.95%
13.10%
GRAPHIC NOVELS
-13.92%
-12.64%
TOTAL COMICS/GN
1.81%
10.99%
SEPTEMBER 2011 VS. SEPTEMBER 2010
COMICS
8.37%
14.42%
GRAPHIC NOVELS
-18.44%
-23.50%
TOTAL COMICS/GN
-1.01%
10.86%
YEAR-TO-DATE 2011 VS. YEAR-TO-DATE 2010
COMICS
-3.02%
-1.49%
GRAPHIC NOVELS
-4.51%
-9.68%
TOTAL COMICS/GN
-3.51%
-2.20%
THIRD QUARTER 2011 VS. SECOND QUARTER 2011
COMICS
14.55%
16.77%
GRAPHIC NOVELS
3.75%
0.07%
TOTAL COMICS/GN
10.92%
15.33%
THIRD QUARTER 2011 VS. THIRD QUARTER 2010
COMICS
6.18%
10.34%
GRAPHIC NOVELS
-1.75%
-7.85%
TOTAL COMICS/GN
3.55%
8.74%
TOP 10 COMIC BOOKS
TOP 10 GRAPHIC NOVELS
RANK
DESCRIPTION
PRICE
ITEM
CODE
VENDOR
1
HOLY TERROR HC (MR)
$29.99
JUL111154
LEG
2
NEW TEEN TITANS: GAMES HC
$24.99
MAY110190
DC
3
CHEW VOLUME 4: FLAMBE TP (MR)
$12.99
MAY110447
IMA
4
RICHARD CASTLE'S DEADLY STORM PREMIERE HC
$19.99
JUL110726
MAR
5
HELLBOY VOLUME 11: THE BRIDE OF HELL & OTHERS TP
$19.99
MAY118259
DAR
6
MORNING GLORIES VOLUME 2 TP
$12.99
JUN110483
IMA
7
BRIGHTEST DAY VOLUME 3 HC
$29.99
MAY110243
DC
8
SAILOR MOON VOLUME 1 TP
$10.99
JUL111150
KOD
9
NARUTO VOLUME 52 TP
$9.99
JUN111269
VIZ
10
UNCANNY X-FORCE VOLUME 1: THE APOCALYPSE SOLUTION TP
$15.99
AUG110733
MAR
TOP 10 TOYS
RANK
DESCRIPTION
ITEM
CODE
VENDOR
1
BRIGHTEST DAY SERIES 3 ACTION FIGURES
JAN110442
DC
2
HALO 10TH-ANNIVERSARY ACTION FIGURES
JUL110565
TMP
3
WOMEN OF THE DCU SERIES 3: SUPERGIRL BUST
FEB110279
DC
4
UNIVERSAL MONSTERS SERIES 2 RETRO CLOTH FIGURES
DEC108176
DST
5
GREEN LANTERN VS. SINESTRO MINI-STATUE
NOV100300
DC
6
MARVEL SELECT: RED SKULL (CAPTAIN AMERICA) FIGURE
MAR111682
DST
7
MARVEL UNIVERSE SUPER HERO TEAM FIGURES
JUL111821
KEN
8
DC UNIVERSE ONLINE: SOLOMON GRUNDY STATUE
JAN110453
DC
9
HEROES OF DCU: BLACKEST NIGHT INDIGO-1 LANTERN BUST
FEB110277
DC
10
BACK TO THE FUTURE: TIME MACHINE MARK I CAR
MAR094739
DST
TOP 10 GAMES
RANK
DESCRIPTION
ITEM
CODE
VENDOR
1
DC HEROCLIX: SUPERMAN BOOSTER BRICK
JUL112183
NEC
2
DOCTOR WHO: ELEVENTH DOCTOR MONOPOLY
MAY112061
WIN
3
DC HEROCLIX: GREEN LANTERN BOOSTER PACKS
MAY118037
NEC
4
YU-GI-OH! TCG: GENERATION FORCE BOOSTER PACKS
JUN118255
KON
5
GEARS OF WAR BOARD GAME
JUL112145
FAN
6
MAGIC THE GATHERING TCG: SCARS OF MIRRODIN BOOSTER PACKS
AUG101862
WIZ
7
MAGIC THE GATHERING TCG: 2012 BOOSTER BATTLE PACKS
JUN118130
WIZ
8
YU-GI-OH! TCG 2011: COLLECTIBLE TINS WAVE 1
MAY118313
KON
9
YU-GI-OH! TCG: GENERATION FORCE SPECIAL EDITION  BOOSTER PACKS
JUL112160
KON
10
OPERATION: STAR WARS R2-D2 EDITION
JUL112158
KEN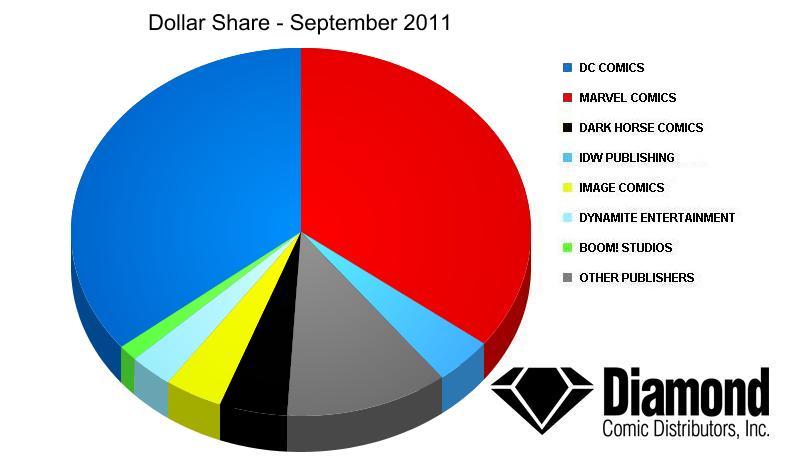 Dollar Market Share – September 2011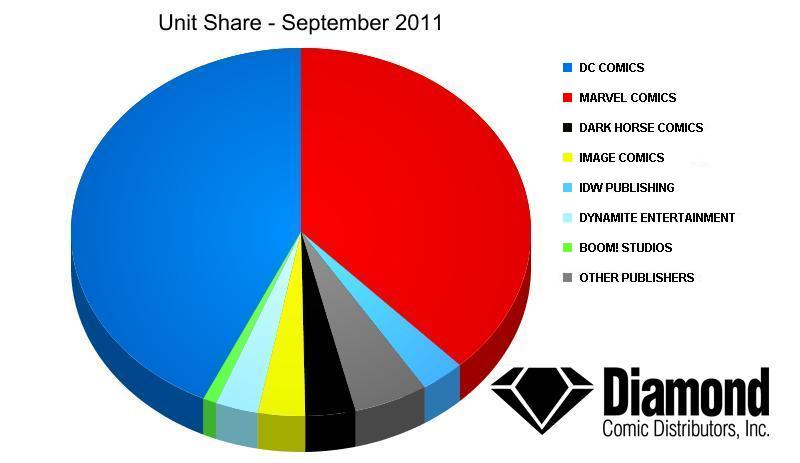 Unit Market Share– September 2011
How does Diamond calculate the charts? It all starts at the comic book shop.
Data for Diamond's sales charts — which include the monthly market shares and all top product charts — are compiled by Diamond Comic Distributors from a universe of over 3,500 comic book specialty shops located in North America and around the world. The account base includes brick-and-mortar comic book specialty shops, Internet merchants, and other specialty stores.
Unit and dollars sales are calculated based upon orders invoiced and shipped to Diamond accounts during any given month, which comprises initial pre-orders, advance reorders, and reorders, minus any copies that are received back from a title marked as returnable.
Please note that comics marked with an asterisk have had their reported quantities reduced due to retailer returnability, and thus may rank lower on the charts than their actual sales would reflect.
***
ABOUT DIAMOND COMIC DISTRIBUTORS (DCD)—Diamond is at the nexus of comics and pop culture merchandise. Based in Baltimore, MD, DCD is the world's largest distributor of English-language comic books and pop-culture related merchandise, servicing more than 4,000 specialty retailers worldwide. For more information, visit Diamond on the web at www.diamondcomics.com.
© 2011 Diamond Comic Distributors, Inc. All rights reserved. Diamond, the Diamond logo, Diamond Books logo, and PREVIEWS are either registered trademarks or trademarks of Diamond Comic Distributors in the United States and/or other countries. All other trademarks are the property of their respective copyright owners.