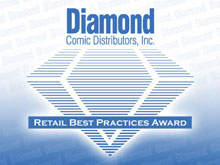 Announced at the San Diego Comic-Con Retailer Lunch, the next round of the BPAs are upon us! Do you think your store is a winner? Nominate yourself! Know of a store that does one of the below awesomely well? Nominate them!
ENTER THE 2013 SUMMER RETAILER BEST PRACTICE AWARDS
SUMMER 2013 CATEGORIES

Best Graphic Novel Section
Best Toys Section
Best Table Display
Best Free Comic Book Day Event
Best Marketing Use of Store Logo (non-signage)

Why Enter?
The Diamond BPAs strive to seek out and honor comic book specialty retailers that demonstrate "best practices" in their stores.

Who Can Enter?
All comic book and specialty hobby store retailers serviced by Diamond are invited to nominate their store for consideration.

How do I enter?
Send your submissions in the following categories to Retailer Marketing Manager, Emily Testerman, at temily@diamondcomics.com by AUGUST 15 in order to be nominated! Submissions should contain at least one photo or image and a description (400 words or less) explaining why your store should win the BPA for said category.

Who Votes?
Voting is done by retailers and will open August 22nd online— make sure you check Diamond Daily and your inbox for details in August! Voting will remain open until September 10, with winners announced the week of September 16 - don't miss this!
Check out some of the past winners here from 2012 and 2013.
Questions? Comments? Submissions? Contact Emily Testerman, Retailer Marketing Manager at temily@diamondcomics.com or at 443-318-8209.